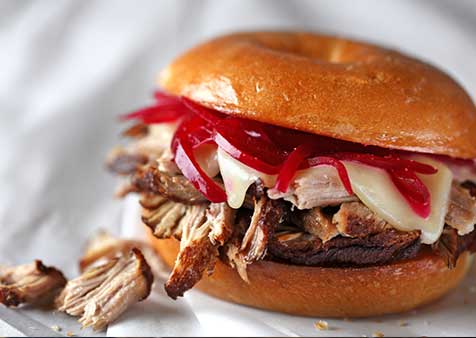 Ingredients
6 oz. cooked Carnitas
2 bagels, sliced in half
2 slices white cheddar
2 Tbsp. pickled red onions (recipe to follow)
1 Tbsp. cilantro, whole leaves
Pickled Red Onions:
2 cups red wine vinegar
1 tsp. salt
2 Tbsp. sugar
1 red onion, sliced
1 small beet, peeled and cut in half
ethnic, grab
Details
Product:
Carnitas
Meal Course:
Breakfast
Dish Type:
Entrée, Sandwich
Preparation
Heat carnitas in sautė pan until warmed through. Add carnitas to bottom halves of bagels, top with cheese and place in broiler until cheese melts.
In small pot, bring vinegar, salt and sugar to simmer. Remove from heat and pour over onions and beets. Cool to room temperature before serving. Best if allowed to sit overnight.
Top with pickled red onions and garnish with fresh cilantro.
To order, contact your Smithfield Culinary sales representative, call 888-326-7526 or contact us for more information.
Email Recipe