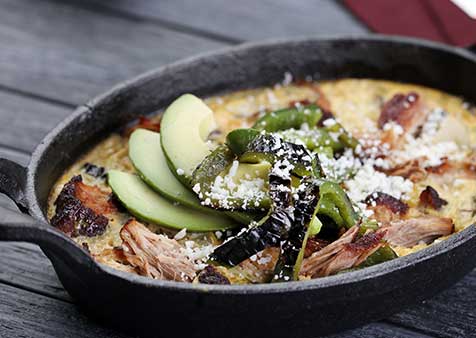 Ingredients
2 Tbsp. canola oil
1/2 medium onion, small diced
2 cloves garlic, thinly sliced
1 small poblano pepper, roasted, skin removed, small diced
1 lime, juiced
3 small tomatillos, husked, rinsed, blended
8 oz. cooked pork Carnitas
1 Tbsp. fresh cilantro, chopped
4 eggs, beaten together with 1 Tbsp. milk
1 avocado, pitted, thinly sliced
2 oz. cotija cheese
ethnic
Details
Product:
Carnitas
Meal Course:
Breakfast
Dish Type:
Entrée
Preparation
Preheat oven to 350°F.
Heat oil in skillet or cast iron pan on medium heat. Sautė onion and garlic 4 to 6 minutes or until tender.
Add roasted poblano, lime juice, tomatillos, carnitas and cilantro. Stir briefly to incorporate. Season with salt and pepper.
Top with sliced avocado; sprinkle with cotija cheese. Garnish with additional cilantro and lime juice.
To order, contact your Smithfield Culinary sales representative, call 888-326-7526 or contact us for more information.
Email Recipe