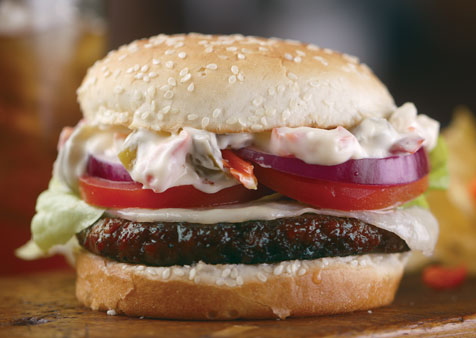 Ingredients
Ingredients:
1 cup mayonnaise
¼ cup chopped medium giardiniera
2 Tbsp butter, softened
4 brioche burger buns, split
1 Tbsp vegetable oil
4 Smithfield™ Burger Patties
Salt and pepper, to taste
8 1-oz sliced provolone
4 leaves green leaf lettuce, washed & dried
4 slices raw tomato
4 red onion rounds
Details
Meal Course:
Dinner, Lunch
Dish Type:
Sandwich
Preparation
Mix mayo into chopped giardiniera.
Heat large cast iron skillet to medium-high heat.
Spread softened butter onto inside of buns, and place cut-side down into pan. Heat until they are golden brown; set aside.
Wipe out skillet with paper towel, and turn it up to high heat. Pour vegetable oil into skillet, and let it heat up until oil shimmers.
Season patties with salt and pepper, and then place carefully in pan; cook 6 minutes on each side.
After flipping the patties, place 2 slices provolone cheese on each patty, and let it melt a little bit. Remove patties and reserve.
Build burgers: bottom bun, patty, lettuce, tomato, onion, a generous amount of giardiniera, mayo, top bun.
To order, contact your Smithfield Culinary sales representative, call 888-326-7526 or contact us for more information.
Email Recipe