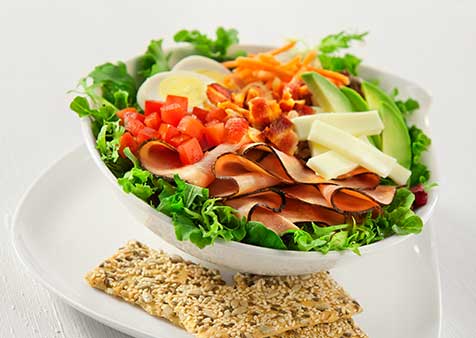 Ingredients
2 slices Par-Cooked, Roasted Bacon
1 cup mixed greens (romaine, Boston, frisee, or spinach)
1 ea. avocado, large, ripe
2 Tbsp. blackened chicken, cooked, diced
2 Tbsp. Black Forest Ham, diced
2 ea. eggs, large, hard boiled, finely chopped
2 Tbsp. carrot confetti
1 ea. tomato, seeded, and finely chopped
3 Tbsp. grapefruit vinaigrette
Details
Product:
Bacon, Ham
Meal Course:
Dinner, Lunch
Dish Type:
Entrée, Soup/Salad
Preparation
Cook the bacon in a skillet on medium heat until crisp on both sides. Remove from skillet and lay out on paper towels to absorb the excess fat. Allow the bacon to cool. Crumble the bacon and set aside.
Fill a large salad bowl with mixed greens.
Arrange the avocado, chicken, ham, bacon, eggs, carrots and tomato decoratively over the greens. Drizzle with grapefruit dressing.
Prep Time: 15 min.
Cook Time: 5 min.
To order, contact your Smithfield Culinary sales representative, call 888-326-7526 or contact us for more information.
Email Recipe