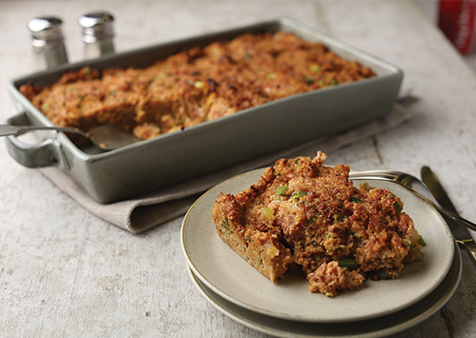 Ingredients
Ingredients:
2 oz olive oil
1½ cups Smithfield™ Simply Seasoned Grind
½ cup medium-diced onion
2 Tbsp medium-diced celery
2 Tbsp medium-diced bell peppers
1 Tbsp minced garlic
½ Tbsp chopped parsley
1½ Tbsp Creole seasoning
½ tsp chopped fresh thyme
2 Tbsp chopped green onions
1 Tbsp minced jalapeños
1½ qts crumbled cornbread
2 cups vegetable stock
½ cup heavy cream
2 eggs
Details
Meal Course:
Dinner
Dish Type:
Side Dish
Preparation
Preheat oven to 350ºF.
In large skillet, render protein in olive oil on medium-high heat.
Add onions, celery, bell peppers and garlic, and sauté until onions are translucent.
Remove from pan, and add to large mixing bowl.
Add remaining ingredients, and fold together.
Pour into oven-safe dish, and bake until golden brown (about 30 minutes).
To order, contact your Smithfield Culinary sales representative, call 888-326-7526 or contact us for more information.
Email Recipe