Crispy Burger Quesadilla Wrap with Avocado Salsa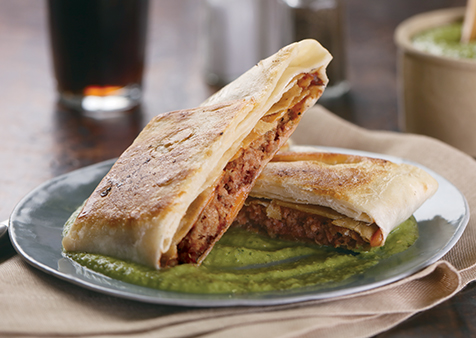 Ingredients
Ingredients:
4 Smithfield™ Burger Patties

4 slices onion, cut into thin rings ¼" thick
4 small corn tortillas or tostada shells
4 large flour tortillas
Black Bean Puree, (recipe follows)
4 Tbsp cotija cheese
8 slices tomato
8 slices cheddar cheese
Black Bean Puree:
4 oz can black beans
7 oz can chipotle in adobo sauce
½ tsp cumin, toasted
¼ tsp coriander, toasted
Avocado Salsa:
3 tomatillos
2 jalapeños
½ cup chopped scallions
Oil, as needed
1 cup cilantro
½ onion, chopped
1 avocado, deseeded
½ cup white wine vinegar
1 Tbsp chopped garlic
1 Tbsp lime juice
1 Tbsp lemon juice
Details
Meal Course:
Dinner, Lunch
Dish Type:
Appetizer, Sandwich
Preparation
Cook patties according to instructions.
As the patties are cooking, sear or grill onions. Deep-fry small tortillas or use tostada shells.
For Black Bean Puree, combine ingredients and add water as needed to maintain a smooth puree.
For Avocado Salsa, toss tomatillos, jalapeños and scallions with enough oil to coat, and roast in oven or on griddle until charred. Blend the rest of the ingredients together and set aside.
In each large tortilla, spread layer of Black Beans Puree, 1 tablespoon cotija cheese, 2 slices tomato, 1 slice cheddar cheese, burger patty, grilled onion and 1 more slice cheddar cheese. Spread layer of Black Bean Puree on each smaller tortilla and place black bean–side down on patty.
Carefully fold large tortilla edges over smaller tortilla in clockwise pattern to cover all edges. Flip wrap over, and toast the folded edges until crispy and it holds its shape, serve with Avocado Salsa.
To order, contact your Smithfield Culinary sales representative, call 888-326-7526 or contact us for more information.
Email Recipe