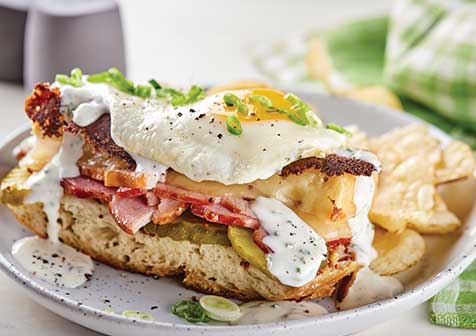 Ingredients
2 Tbsp mayonnaise
1 Tbsp Dijon mustard
1 ciabatta, sliced in half
4 slices Smithfield Boneless Ham
2 slices provolone cheese
6-8 slices dill pickles
Soft butter, as needed
Gruyère Béchamel, warm (recipe follows)
1 sunnyside-up egg
Scallions, sliced
Gruyère Béchamel:
½ cup whole milk
1 tsp cornstarch
¼ cup Gruyère cheese, shredded
1 tsp salt
1 tsp chives, chopped
Details
Product:
Ham
Meal Course:
Dinner, Lunch
Dish Type:
Appetizer, Entrée
Preparation
In small bowl, mix together mayonnaise and Dijon mustard.
Spread mayonnaise-mustard mixture on both insides of ciabatta, and on bottom half, evenly layer dill pickles, ham and provolone cheese. Top sandwich with top half of ciabatta, and press it down.
Heat sauté pan to medium, add small amount of butter, and then add sandwich to it. Place another pan on top to keep sandwich pressed, and let it cook for 5 to 6 minutes, or until bread is well toasted and crunchy.
Add more butter as needed, flip sandwich, and cook other side for 5 minutes, or until bread is toasted and crunchy and cheese is melted.
Remove sandwich, drizzle it with Gruyère Béchamel, and then top it with sunnyside-up egg and sprinkle of scallions.
Gruyère Béchamel:
In small pot, combine milk and cornstarch, and bring to simmer, whisking.
Once at simmer, stir in Gruyère cheese and salt, and stir until cheese is melted and sauce is smooth.
Stir in chives, and keep warm until needed.
To order, contact your Smithfield Culinary sales representative, call 888-326-7526 or contact us for more information.
Email Recipe