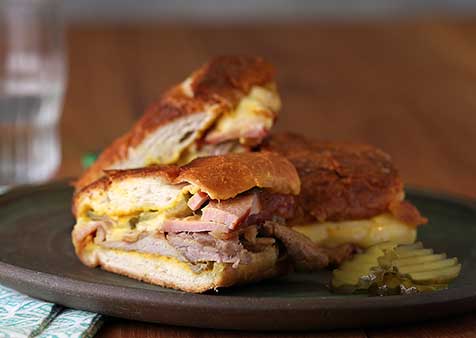 Ingredients
2 cloves fresh garlic
Salt, to taste
8 oz. Pork Tenderloin
1/4 oz. cumin
1 tsp. olive oil
3 6-inch pieces French bread
1/2 cup yellow mustard
1/2 cup dill pickle chips
6 slices Swiss Cheese
6 slices smoked Gouda
2 oz. butter
Details
Product:
Ham, Pork Tenderloin
Meal Course:
Dinner, Lunch
Dish Type:
Entrée, Sandwich
Preparation
Cream garlic by mincing and crushing with salt. In bowl, combine garlic, tenderloin and cumin. Add garlic salt.
Heat nonstick skillet to medium heat, add oil and allow oil to get hot. Carefully lay pork tenderloin pieces in one at a time, turning as they begin to brown slightly. Remove from pan and allow to cool.
Cut French bread pieces in half horizontally. Brush top half with mustard, adding pickle chips as desired over mustard, then cheese slices and ham.
Layer cooked pork tenderloin slices on bottom half.
Heat skillet to medium-high heat; melt butter. Lay both open halves on skillet and allow meat to sear, making sure not to burn butter.
Once meat is seared, bring both halves together to complete sandwich. Place sandwich in same skillet, allowing both sides of bread to become golden brown.
Remove from pan, and cut into 4 pieces.
To order, contact your Smithfield Culinary sales representative, call 888-326-7526 or contact us for more information.
Email Recipe