Filipino Adobo-Glazed Pork Belly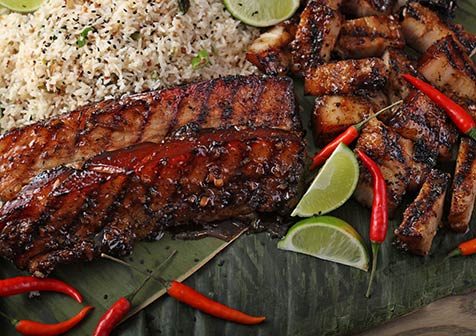 Ingredients
Sous Vide Beer Brine Pork Belly and Jasmine Rice
12 cans lager beer
½ cup cane sugar
½ cup sea salt
2-5 lbs. Pork Belly
8 cups jasmine rice
9½ cups water
Fried Garlic
2 cups chopped garlic
4 cups peanut oil
Adobo Glaze
4 cups Filipino adobo
¾ cup dark soy sauce
¼ cup pureed garlic
¼ cup chopped garlic
2 cups coconut vinegar
½ cup water
Garlic Fried Rice
1 cup garlic oil
Chilled Jasmine Rice (recipe follows)
2 Tbsp. granulated garlic
2 tsp. sea salt
2 cups sliced green onions
4 banana leaves, for plating
Key lime or kalamansi wedges, as desired, for garnish
Details
Brands Offered: Farmland, Smithfield Culinary DURoC
Product:
Pork Belly
Meal Course:
Dinner
Dish Type:
Appetizer, Entrée
Preparation
To prepare Pork Belly: Set thermal circulator to 145°F. In large container, combine beer, sugar and salt; mix until completely dissolved. Place pork belly into sous vide pouch, add brine and vacuum seal. Place into thermal re-circulator and cook for 8 to 12 hours.
Remove from thermal circulator and chill pork belly in ice bath. Once cool, drain and rinse off marinade; pat dry with paper towels and place into hotel pan with wire rack. Refrigerate if not using immediately. Heat smoker to 250°F. Place room temperature pork belly in smoker for 2 to 4 hours.
To prepare Jasmine Rice: Rinse rice until water is clear; add rice and water to large pot, bring to boil, cover, and reduce heat to simmer. Cook for 12 to 15 minutes, remove from heat, and check for doneness. Place rice in hotel pan; once cool, place in refrigerator at least 4 hours.
To prepare Fried Garlic: Bring garlic and oil to boil in saucepan; reduce heat and simmer until garlic is golden brown.
Remove garlic from oil and drain on paper towels; set aside until ready for use. Reserve oil for Garlic Fried Rice.
To prepare Adobo Glaze: In saucepan, combine all ingredients; mix until smooth. Bring to boil, reduce heat to simmer, and cook until sauce thickens to a glaze. Remove from heat; adjust flavor to taste.
To prepare Garlic Fried Rice: Preheat wok; add garlic oil and heat. Stir-fry chilled rice until heated through. Season with granulated garlic and sea salt; add green onions and toss. Keep warm until use.
Remove pork belly from smoker and let rest; slice into 1½-inch- to 2-inch-thick strips. Preheat charcoal grill or char-grill to 475°F. Grill pork belly until heated through, about 165°F. Brush with adobo glaze while grilling. Slice into 1-inch portions; brush with glaze before serving.
To serve, arrange banana leaves on platter. Place Garlic Fried Rice followed by Pork Belly; top with additional Adobo Glaze. Garnish with fried garlic and key lime or kalamansi wedges.
To order, contact your Smithfield Culinary sales representative, call 888-326-7526 or contact us for more information.
Email Recipe