Grilled Pork Chop Lettuce Wraps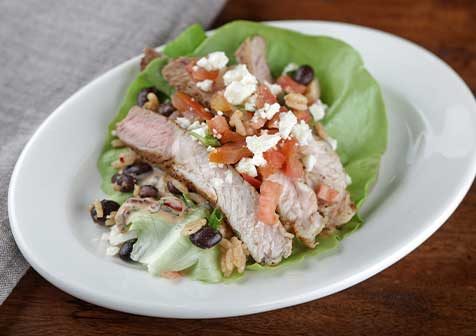 Ingredients
¾ cup mayonnaise
⅓ cup whole buttermilk
¼ cup chopped cilantro
1 canned chipotle pepper in adobo sauce
2 Tbsp. fresh lime juice
1 tsp. sugar
1 1/4 tsp. kosher salt, divided
¾ tsp. ground cumin, divided
1 15-oz. can black beans, drained & rinsed
2 cups white rice, cooked
¼ cup chopped green onions
1 tsp. black pepper
1 Tbsp. olive oil
12 butter lettuce leaves
12 Tbsp. pico de gallo, divided
1 cup crumbled queso fresco
Details
Product:
Pork Chops, Pork Chops
Meal Course:
Dinner, Lunch
Dish Type:
Entrée, Soup/Salad
Preparation
Process mayonnaise, buttermilk, cilantro, chipotle pepper, adobo sauce, lime juice, sugar, 1/2 tsp. salt and 1/2 tsp. cumin in food processor or blender until blended and smooth, about 1 minute. Cover and chill until ready to use.
Stir together beans, rice, green onions and 1/3 cup mayonnaise mixture. Cover and chill until ready to use.
Stir together black pepper and remaining 3/4 tsp. salt and 1/4 tsp. cumin in small bowl. Rub pork with olive oil and sprinkle with salt mixture.
Grill or pan sauté uncovered and turn occasionally, 3 to 5 minutes (depending on the thickness of the pork chop). Let rest 2 minutes. Cut pork into thin strips.
Spoon 1/4 cup bean mixture onto each lettuce leaf, and top each with 2 to 3 slices of pork, 1 Tbsp pico de gallo, and 1 Tbsp. cheese. Serve with remaining mayonnaise mixture.
To order, contact your Smithfield Culinary sales representative, call 888-326-7526 or contact us for more information.
Email Recipe