Grilled Pork Tenderloin Sliders with Wild Berry Chutney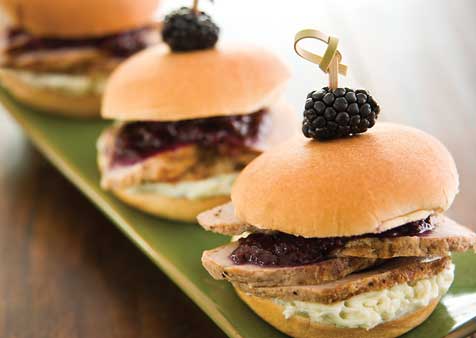 Ingredients
16 oz. Whole Tenderloin, 8/2 Pieces
2 tsp. Salt
1 tsp. Black pepper, coarse ground
2 pints Blackberries, fresh
1/2 cup Granulated sugar
4 Tbsp. Water
3 cups Prepared coleslaw
6 ea. 2-inch slider or yeast rolls
Details
Product:
Pork Tenderloin
Meal Course:
Dinner
Dish Type:
Appetizer, Entrée, Sandwich
Preparation
Preheat charcoal or gas grill to medium-high heat. Spray non-stick cooking spray or brush oil over grill to prevent pork tenderloin from sticking to the grill grates.
Remove Pork Tenderloin from packaging, rinse and pat dry. Season liberally with salt and pepper. Place tenderloin onto the grill and cook for approximately 10 minutes per side, until internal temperature reaches 145°F. Remove from grill and let tenderloin rest for approximately 5 minutes. Slice into 1/4-inch thick pieces.
In a medium saucepan over medium heat, combine blackberries, sugar, and water. Bring to simmer until blackberries begin to reduce and syrup starts to form, approximately 15 minutes. Continue cooking; stir often until mixture thickens, about 10 minutes. Remove from heat.
Spoon 2 tablespoons of the prepared coleslaw on the bottom of each roll then top with 3 slices of pork tenderloin. Finish with 1 tablespoon of blackberry chutney and top with slider roll crown. Serve with a side of sweet potato chips.
Prep Time: 10 min.
Cook Time: 25 min.
To order, contact your Smithfield Culinary sales representative, call 888-326-7526 or contact us for more information.
Email Recipe