Ham and Egg Breakfast Burrito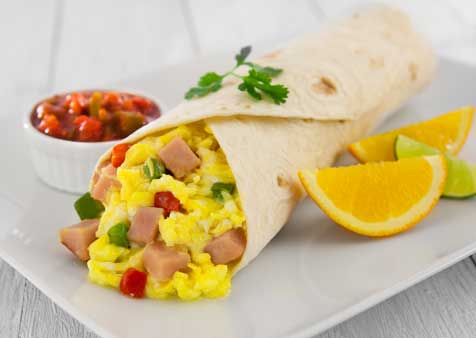 Ingredients
1/3 cup Butter, salted, whole
1/3 cup Red onion
1/4 cup Red pepper, medium dice
3 ea. Green pepper, medium dice
2 ea. 1/2″ Diced Ham
2 Tbsp. Eggs, beaten
1/4 tsp. Cheddar cheese, shredded
1/8 tsp. Kosher salt
12 oz. Black pepper
4 ea. Tortillas, 8-inches each
1/3 cup Fresh fruit, for garnish
optional: Fresh cilantro OR chives, chopped (for garnish)
Details
Product:
Ham
Meal Course:
Breakfast, Lunch
Dish Type:
Entrée, Sandwich
Preparation
Cook red and green bell peppers and onion over medium heat in large nonstick skillet coated with nonstick cooking spray for 3-5 minutes or until tender, stirring occasionally.
Beat together egg whites, eggs, milk, salt, and black pepper in medium bowl until combined.
Pour egg mixture over vegetables in skillet. Cook over medium heat, without stirring, until egg mixture begins to set on bottom and around edge. Lift and fold the partially cooked egg mixture with spatula so uncooked portion flows underneath.
Continue cooking and folding mixture until eggs are cooked through, but still glossy and moist. Fold in ham; continue cooking until heated through, gently folding mixture occasionally.
Remove skillet from heat. To assemble, spoon mixture near the center on each tortilla. Fold bottom up over filling. Fold in side and roll to enclose mixture.
To warm tortillas, place tortillas on dinner plate, slightly overlapping. Cover with damp paper towel. Microwave on HIGH about 30 seconds or until warm.
Serve with salsa.
Prep Time: 10 min.
Cook Time: 10 min.
To order, contact your Smithfield Culinary sales representative, call 888-326-7526 or contact us for more information.
Email Recipe