Ham & Cheese Scones with Whipped Maple Butter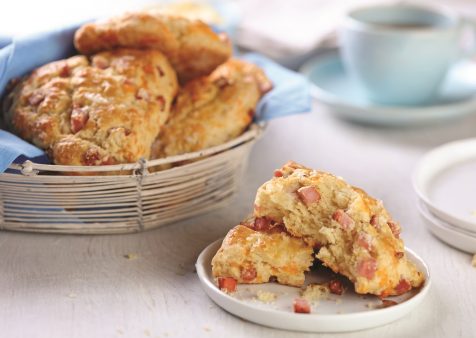 Ingredients
1 lb. all-purpose flour
4 oz. light brown sugar
1 Tbsp. baking powder
½ tsp. baking soda
1 tsp. kosher salt
¼ tsp. nutmeg
12 oz. unsalted butter, cubed and chilled
1 large egg
8 oz. buttermilk
8 oz. Smithfield Diced Ham
1 cup diced sharp cheddar cheese
1 large egg, for egg wash
Smoked Maldon salt, to taste
Whipped Maple Butter (recipe follows)
Whipped Maple Butter
4 oz. unsalted butter, softened
1 oz. maple syrup
Pinch of kosher salt
Preparation
Preheat oven to 350°F.
Combine flour, light brown sugar, baking powder, baking soda, kosher salt and nutmeg with whisk until well distributed.
Add cold butter, and use either a pastry cutter or your hands to cut into dry ingredients. Butter will be about the size of peas when finished.
In separate bowl, combine egg and buttermilk with whisk.
Add to dry ingredients, and gently knead dough together until shaggy. Do not mix in completely.
Add ham and cheese, and knead again until dough comes together and ingredients are well distributed. Do not overmix.
Move dough onto lightly floured surface, and divide in 2 dough balls. Form into discs about 1½ inches in height.
Whisk egg for egg wash with splash of water, and brush over each disc. Sprinkle with smoked Maldon salt.
Using sharp knife, cut each disc into 6 wedges, and move each of the pieces onto a lined half sheet tray.
Bake scones for about 25-30 minutes or until scones are golden brown.
Serve warm with side of Whipped Maple Butter.
Whipped Maple Butter:
Place butter, maple syrup and pinch of salt into mixer, and beat with paddle until light in color and smooth.
To order, contact your Smithfield Culinary sales representative, call 888-326-7526 or contact us for more information.
Email Recipe