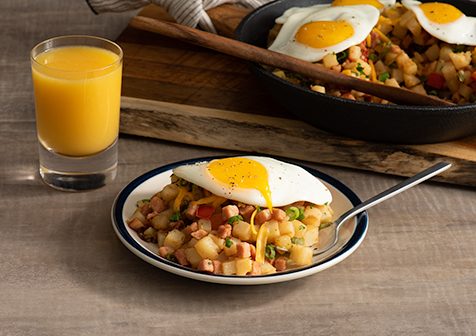 Ingredients
2 cups Ham, medium dice
2 cups Idaho potatoes, medium dice
1 cup red peppers, medium dice
1 cup white onions, medium dice
12 eggs
2 oz. cooking oil
Details
Product:
Ham
Meal Course:
Breakfast
Dish Type:
Entrée
Preparation
In a 350° F. degree fryer, add potatoes and fry until golden (Usually about 8-10 minutes). Remove and set aside.
In a medium sauté pan, add oil and warm over medium heat.
Add diced onions and cook until translucent.
Add red peppers; continue cooking over medium heat until tender.
Add ham and potatoes.
Place on plates topped with 2 eggs any style.
To order, contact your Smithfield Culinary sales representative, call 888-326-7526 or contact us for more information.
Email Recipe