Ham-Stuffed Buttermilk Biscuit Skewers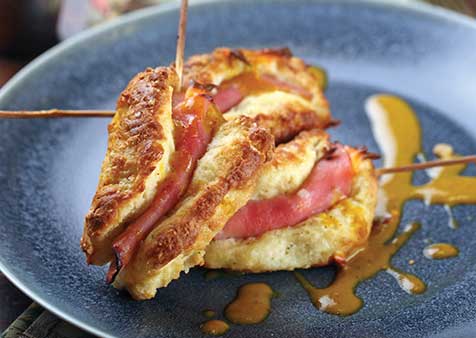 Ingredients
10 Biscuit pucks, uncooked
10 1-oz slices smoked cheddar
1/4 cup Alfredo sauce
4 fl oz melted butter
Carolina Gold Dipping Sauce
16 oz coleslaw
Biscuits:
1 lb all-purpose flour
1 oz baking powder
1 Tbsp sugar
1 Tbsp salt
5 oz butter, cubed and chilled
8 fl oz buttermilk
3 oz eggs
Carolina Gold Dipping Sauce:
16 fl oz white vinegar
1/2 Tbsp ground black pepper
1/2 Tbsp kosher salt
4 oz sugar
1/2 Tbsp red pepper flakes
1/2 Tbsp chipotle powder
8 oz dark brown sugar
20 fl oz yellow mustard
2 fl oz ketchup
Details
Product:
Ham
Meal Course:
Lunch
Dish Type:
Sandwich
Preparation
Stuff each biscuit puck with ham and cheese.
Stretch and thread stuffed biscuit onto wooden skewer.
Baste with melted butter, and place in cooler for 20 minutes.
Place in 400°F oven for 10-15 minutes until golden brown.
Serve with Carolina Gold Dipping Sauce and Coleslaw.
For Biscuits, preheat convection oven to 400°F.
Combine dry ingredients: flour, baking powder, sugar and salt.
Combine butter and dry ingredients, and rub together. Do this until butter is approximately 1/2-inch diameter.
Combine buttermilk and eggs, and mix well. Add to dry ingredients/butter mixture. Do not overmix. Shape into pucks, and place in cooler for 10 minutes to allow butter to harden.
For Carolina Gold Dipping Sauce, combine all ingredients except yellow mustard and ketchup.
Bring to simmer, add yellow mustard and ketchup, and remove from heat. Allow to cool.
To order, contact your Smithfield Culinary sales representative, call 888-326-7526 or contact us for more information.
Email Recipe