Homestyle Meatballs with Creamy Polenta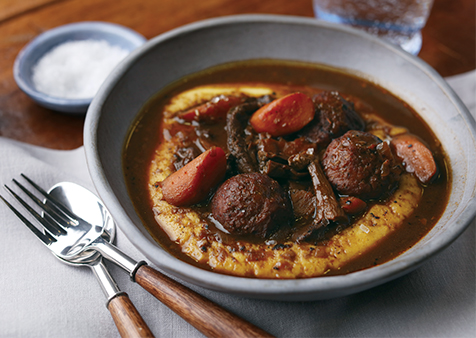 Ingredients
Ingredients:
1 lb. cremini mushrooms
3 qts water
1 oz dried porcini mushrooms
1 cup cornmeal, soaked for at least 2 hours in cold water
5 cups cold water
Salt, to taste
6 oz cold butter, cubed, divided
3 medium carrots, cut into 1" oblique cuts
3 medium parsnips, cut into 1" oblique cuts
1 onion, diced
4 cloves garlic, minced
4 Tbsp tomato paste
4 Tbsp white miso paste
16 oz red wine
1 Tbsp AP flour

1 Package Smithfield™ Meatballs
2 oz Parmesan cheese, shaved
Details
Meal Course:
Dinner
Dish Type:
Entrée
Preparation
To make mushroom stock, add mushrooms to water in small stock pot. Bring to simmer, and cook for 45 minutes; then strain. Pour mushroom stock over dried porcini mushrooms. Let soak and set aside.
Pour soaked cornmeal and soaking water into rounded sauce pot.
Bring cornmeal and water to boil over high heat, whisking frequently. Season with salt. Once polenta starts to bubble, turn heat to low, and cover pot with lid. Cook until cornmeal softens, about 1 hour.
Once cornmeal is cooked, stir in 4 oz cold butter until combined.
Melt 1 oz butter in saucepan over medium heat. Add carrots and parsnips. Once tender, add diced onions. Cook until onions become translucent and add garlic. Cook 5 minutes; then add tomato and miso paste, continue cooking and stirring until bottom of pan develops a fond.
Deglaze pan with wine, scraping bottom. Cook until wine is reduced.
Sprinkle flour over vegetables in pot, and add remaining 1 oz butter. Cook for 2 minutes, or until flour has a nutty aroma.
Stir mushroom stock and rehydrated porcini mushrooms into vegetables, and bring to simmer.
In large sauté pan over medium-high heat, brown meatballs on all sides.
Add browned meatballs to simmering sauce, turn heat to low, and cover with lid. Cook for about 30 minutes.
To serve: Divide polenta evenly between 4 shallow bowls. Top with meatballs and ladle vegetable sauce. Garnish with Parmesan cheese.
To order, contact your Smithfield Culinary sales representative, call 888-326-7526 or contact us for more information.
Email Recipe