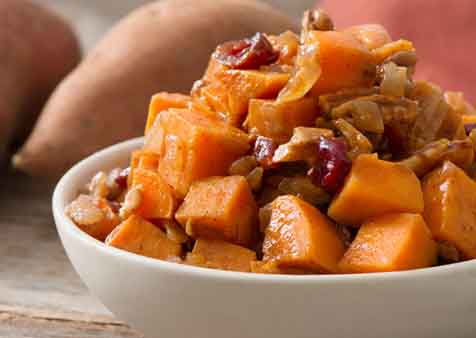 Ingredients
12 oz. finely chopped sweet yellow onions
1 lb. 8 oz. toasted pecan pieces
1 lb. 8 oz. dried cranberries
1 lb. 8 oz. honey
1/4 cup ground cinnamon
Salt to taste
1 lb. 4 oz. butter
12 lbs. 8 oz. sweet potatoes or yams, peeled and diced
Details
Product:
Ham
Meal Course:
Dinner, Lunch
Dish Type:
Side Dish
Preparation
Melt butter in large skillet. Add sweet potatoes and onion; stir-fry over high heat until potatoes are tender.
Add remaining ingredients; heat through.
Ladle 4 ounces warm salsa over each serving of sliced Ham.
To order, contact your Smithfield Culinary sales representative, call 888-326-7526 or contact us for more information.
Email Recipe