Kimchi Fried Rice with Barbacoa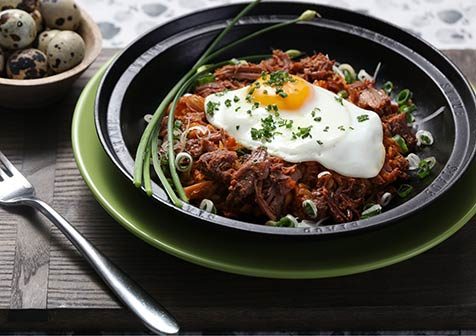 Ingredients
Kimchi Fried Rice
3 cups sushi rice
1 cup chopped Spanish onion
4 cups kimchi
1 Tbsp. butter
3 Tbsp. Sweetened Gochujang (recipe follows)
Salt, to taste
Scallions or chives, chopped, for garnish
Sweetened Gochujang
3 Tbsp. gochujang (Korean fermented chili paste)
1 Tbsp. water
1 Tbsp. sugar
1 Tbsp. corn syrup
Details
Brands Offered: Curly's
Product:
Barbacoa
Meal Course:
Breakfast, Dinner, Lunch
Dish Type:
Entrée
Preparation
Prepare rice according to package; move to bowl and set aside.
To prepare Sweetened Gochujang: Mix all ingredients together.
In medium heated frying pan, sauté bacon until cooked through; add onions; cook until golden brown.
Add kimchi and cook until caramelized.
Add cooked rice to pan; stir-fry together with butter and Sweetened Gochujang.
Combine with Barbacoa; season with salt.
Garnish with chopped scallions or chives.
Suggested serving: Top with sunny-side up egg.
To order, contact your Smithfield Culinary sales representative, call 888-326-7526 or contact us for more information.
Email Recipe