Korean Pajeon (Scallion Pancake) with Carnitas, Egg and Cho-Gochujang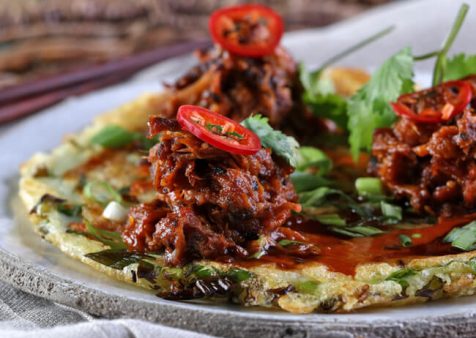 Ingredients
2 cups Korean pancake mix
¼ cup tempura flour
¼ cup rice flour
2.5 cups ice cold water
1 qt. canola oil
2 lb. green onions, julienned
1 lb. Carnitas
4 oz. red Fresno chile
5 eggs beaten (1 per pancake)
Cho-Gochujang Sauce (recipe to follow)
Cho-Gochujang Sauce:
2 Tbsp. gochujang
1 Tbsp. soy sauce
2 Tbsp. rice wine vinegar
1 Tbsp. granulated sugar
1 Tbsp. honey
1 tsp. toasted sesame seeds
1 tsp. sesame oil
¼ tsp. grated ginger
¼ tsp. minced garlic
Details
Carnitas brands offered: Curly's
Product:
Carnitas
Meal Course:
Dinner, Lunch
Dish Type:
Entrée
Preparation
Sift together pancake mix, tempura flour and rice flour.
Add water and whisk it well.
Preheat frying pan on medium to medium-high heat until bottom is well heated. Reduce heat to medium to medium-low. (Cook and finish with this temperature setting.) Put generous amount of cooking oil into pan.
Place 3 oz. green onions on pan parallel to each other; place carnitas and red chiles sparingly on top of green onions.
Ladle pancake mixture and drizzle (in zigzag shape) it over green onions and carnitas. Try to spread it evenly, filling any gaps.
Drizzle beaten egg over pancake. Shape pancake with spatula.
Flip pancake once bottom is set. Serve with Cho-Gochujang sauce.
Cho-Gochujang Sauce:
Mix all ingredients together and reserve for plating.
To order, contact your Smithfield Culinary sales representative, call 888-326-7526 or contact us for more information.
Email Recipe