Lean Lemon Ham Cabbage Boats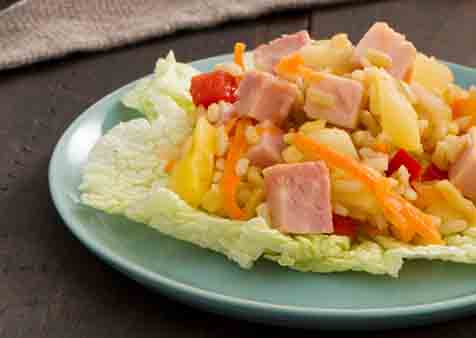 Ingredients
3 lemons
1/2 cup chicken broth
1/2 cup honey
2 tablespoons dry sherry
2 tablespoons rice wine vinegar
1 teaspoon prepared mustard
1/2 teaspoon garlic salt
1/4 to 1/2 teaspoon crushed red pepper
2 tablespoons cornstarch
2 tablespoons water
8 oz. cooked brown rice, room temperature or chilled
1/2 cup well-drained pineapple tidbits packed in 100% juice
1/2 cup shredded carrot
1/4 cup diced red bell pepper
1/4 cup well-drained diced water chestnuts
12 Savoy (Napa) cabbage leaves, washed
Details
Product:
Ham
Meal Course:
Dinner
Dish Type:
Appetizer, Entrée
Preparation
To make lemon sauce, squeeze juice from lemons into medium saucepan. Zest peel from one-half lemon and add to pan. Stir in chicken broth, honey, sherry, vinegar, mustard, garlic salt and red pepper. Bring to a boil over medium heat. Reduce heat and simmer 5 minutes.
In small bowl, combine cornstarch and water; mix until cornstarch is dissolved. Slowly stir into lemon sauce. Increase heat to high; cook and stir until thickened.
Combine ham, rice, pineapple, carrot, bell pepper and water chestnuts in bowl.
To serve, spoon 1/3 cup ham mixture down center of each cabbage leaf. Drizzle with 1 to 2 tablespoons lemon sauce. Fold up sides of cabbage to form shape of canoe to eat. Cover and refrigerate leftover lemon sauce.
To order, contact your Smithfield Culinary sales representative, call 888-326-7526 or contact us for more information.
Email Recipe