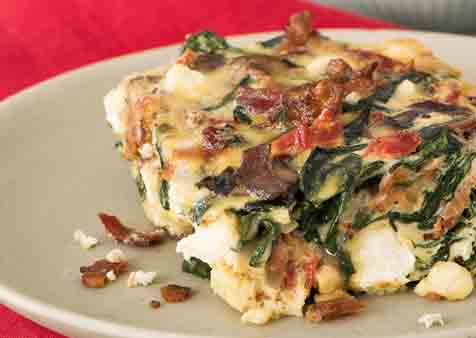 Ingredients
1 lb. Hickory Smoked Bacon, cut into 1 1/2-inch pieces
1 1/2 dozen large eggs
3/4 teaspoon minced garlic
1 1/2 cups (6 oz.) crumbled feta cheese with sundried tomatoes and basil
7 cups (about 1 lb.) fresh spinach
1 1/2 cups chopped fresh mushrooms
1/2 cup finely chopped red onion
Details
Product:
Bacon
Meal Course:
Breakfast
Dish Type:
Entrée
Preparation
Heat convection oven to 325°F. Cook bacon until done but not crisp; drain.
Whisk together eggs and garlic; stir in cheese. Set aside.
Stir-fry spinach, mushrooms and onion in bacon grease over medium heat until spinach begins to wilt. Stir in cooked bacon, egg and cheese mixture until evenly combined. Pour into greased 12x10x2-inch baking pan.
Set baking pan into pan of hot water. Bake at 325°F. for 45 minutes or until set.
To order, contact your Smithfield Culinary sales representative, call 888-326-7526 or contact us for more information.
Email Recipe