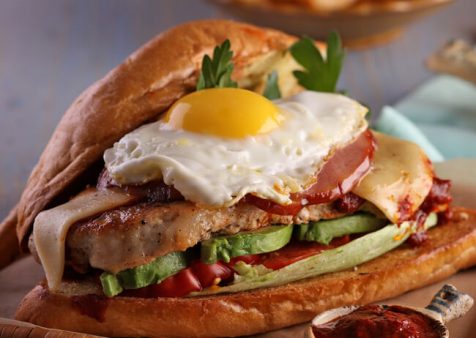 Ingredients
4 2oz. slices Ham
¼ cup Extra Virgin Olive Oil
4 Bolillo Rolls
4 slices Chihuahua cheese
2 cups shredded lettuce
1 medium onion, sliced thin
1 medium tomato, sliced thin
½ avocado, sliced or mashed salt
Latin Rub (recipe to follow)
Guajillo Sauce (recipe to follow)
Guajillo Mayo (recipe to follow)
Latin Rub
1 Tbsp. black pepper
1 Tbsp. kosher salt
1 Tbsp. granulated garlic
1 Tbsp. granulated onion
1 tsp. ground Mexican oregano
½ tsp. ground cumin
½ tsp. ground coriander
Guajijllo Sauce
16 ounces dried Guajillo Chiles
1 cup water
½ cup onion, quartered
1 Tbsp. minced garlic
1 tsp. salt
2 Tbsp. olive oil
½ cup reserved liquid guajillo chiles
3 cups chicken broth

Guajillo Mayo
1 cup Guajillo Sauce (see above)
1 cup mayo
1 tsp. lemon juice
Details
Ham brands offered: Farmland, Smithfield Culinary, Armour by Smithfield, Eckrich, Patrick Cudahy, John Morrell, Carando
Pork Chop brands offered: Farmland, Farmland Chop Shop
Product:
Ham, Pork Chops
Meal Course:
Breakfast
Dish Type:
Entrée, Sandwich
Preparation
Season both sides of pork chops with Latin rub; cover and refrigerate.
Heat olive oil in large skillet over medium-high heat. Cook boneless pork chops about 3-4 minutes on each side. Remove from skillet; keep warm.
Place sliced ham in skillet and sear both sides; keep warm.
On heel of bolillo roll, layer Guajillo Mayo, Pork, Ham, cheese, lettuce, onion, tomato, avocado and Top with sunny-side up egg; crown of bread on the side.
Latin Rub
Mix spices together in a small bowl and set aside.
Guajijllo Sauce
Lightly toast chiles in a dry pan for 1-2 minutes over medium heat.
Pour 1 cup of water over chiles and let sit 15 minutes until softened.
Remove chiles and strain liquid; reserve ½ cup of the water.
Remove stems from chiles and place in a food processor.
Add onion, garlic, salt, and reserved liquid; pulse. Slowly add oil while processing until smooth.
Pour liquid into a pot and add chicken broth. Simmer for 20 minutes. Strain sauce to remove seeds; set aside to cool.
Guajillo Mayo
Combine Guajillo Sauce, mayo and lemon juice. Set Aside.
To order, contact your Smithfield Culinary sales representative, call 888-326-7526 or contact us for more information.
Email Recipe