Pancetta-Wrapped Pork Tenderloin with Baby Arugula and Sauce Gribiche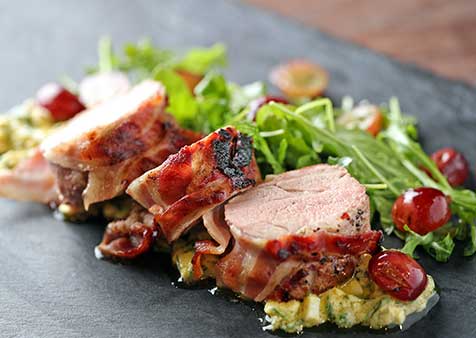 Ingredients
2 lbs. Pork Tenderloin, trimmed and cleaned
Salt and fresh cracked pepper, to taste
12 thin Pancetta slices
1 bunch red grapes
Sauce Gribiche (recipe follows)
1 lb. baby arugula
Sauce Gribiche:
3 tsp. red wine vinegar
2 tsp. Dijon mustard
8 large eggs, hard boiled, chopped
1/4 cup gently packed mixed chopped herbs: flat parsley, chervil and/or tarragon
1/2 cup cornichons
8-10 capers, drained, rinsed and dried
1/3 cup extra virgin olive oil
Salt and pepper, to taste
Details
Product:
Pancetta, Pork Tenderloin
Meal Course:
Dinner, Lunch
Dish Type:
Entrée
Preparation
Preheat grill to medium-high heat.
Pat pork tenderloins dry and season with salt and pepper.
Wrap pork tenderloin with pancetta (approximately 6 slices per loin).
If you wish, truss pork tenderloins with string to secure the pancetta.
Spray grill and sear tenderloins on all sides, about 2 minutes each.
Continue to cook in 400°F preheated oven for approximately 8 minutes.
Remove from oven and let rest for 10 minutes.
Wipe grill clean, quickly sear red grapes and set aside.
Slice pancetta-wrapped tenderloins into 1-inch-thick rolls and place on plate.
Drizzle with Sauce Gribiche.
Garnish plate with arugula and seared grapes.
Sauce Gribiche:
Combine red wine vinegar and Dijon mustard. Mix well and add chopped eggs, herbs, cornichons, capers and extra virgin olive oil. Season with salt and pepper.
Fold gently and set aside.
To order, contact your Smithfield Culinary sales representative, call 888-326-7526 or contact us for more information.
Email Recipe