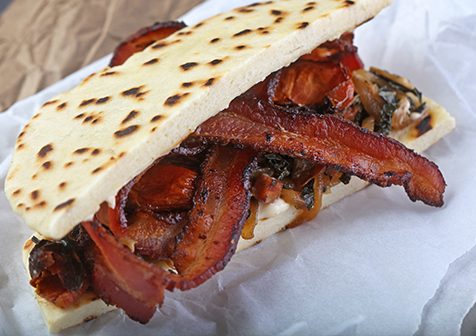 Ingredients
Piadina:
3 ⅓ cups AP flour
2 tsp salt
3tsp baking powder
¼ cup EVO
¼ cup milk
½ cup water
Braised Kale:
1 cup yellow onion, sliced
2 cloves garlic, sliced
¼ cup Ham, diced
¼ cup EVO
1 bunch kale, stems removed and sliced into ½ inch ribbons
white wine vinegar to taste
salt to taste
Roasted Tomatoes:
6 Roma tomatoes
2 Tbsp Extra Virgin Olive Oil
Salt and pepper
Garlic Aioli
½ cup Mayonnaise
½ tsp garlic, minced
1 tsp lemon juice
¼ tsp lemon zest
4 eggs, scrambled
12 slices Bacon, cooked
Details
Product:
Bacon, Ham
Meal Course:
Breakfast
Dish Type:
Entrée, Sandwich
Preparation
Piadina:
1. In bowl of a stand mixer add dry ingredients
2. Add oil, milk and water and mix with dough hook until dough comes together
3. Knead for about 10 minutes or until dough is smooth
4. Divide into 5oz balls, wrap in plastic wrap and let rest for 1 hour
5. Roll doughs into rounds and cook in non-stick pan with no oil on both sides
Garlic Aioli:
1. In a small bowl, mix together all ingredients and season to taste.
Braised Kale:
1. Cook onions, garlic and ham in the EVO until golden brown
2. Add kale and cook until tender, approximately 30 minutes.
Season with salt and vinegar
Roasted Tomatoes:
1. Core and halve tomatoes
2. Toss with olive oil and salt to taste
3. Roast in 300 oven until soft and caramelized, approximately 25 minutes.
4. Peel when cool enough to handle and reserve.
To serve:
1. Spread Aioli on Piadina bread. Top with braised kale, roasted tomatoes, eggs, and bacon and fold in half.
2. In a non-stick pan over medium heat add cook to just warm the Piadina.
1. On 4 Piadina breads layer with all ingredients
2. Fold over and warm through in a pan
Garlic Aioli
½ cup hellman's mayo
½ t garlic, microplaned
1 t lemon juice
¼ t lemon zest, microplaned
1. Combine all ingredients and mix
To order, contact your Smithfield Culinary sales representative, call 888-326-7526 or contact us for more information.
Email Recipe