Pizza Pinwheels with Prosciutto Cotto and Mozzarella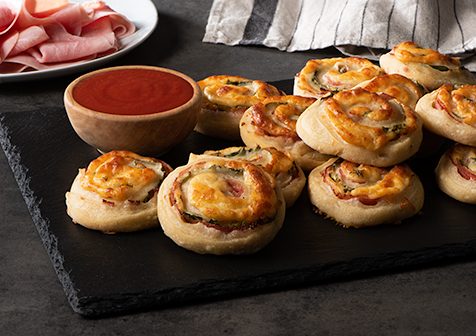 Ingredients
Pizza Dough
20 oz. water at 70° F.
2 grams of dried yeast
40 oz. flour (General Mills Gold Medal or Neapolitan)
1 oz. Kosher salt
Pizza Pinwheels
15 oz. Ham, shaved paper thin
1 cup flour (General Mills Gold Medal or Neapolitan)
20 oz. mozzarella, grated
2 cups baby Arugula
Details
Product:
Ham
Meal Course:
Dinner, Lunch
Dish Type:
Appetizer, Side Dish
Preparation
Pizza Dough: Place dough hook onto mixer.
Add 70° F. water and yeast to the mixing bowl. Mix using a wire whisk.
Place mixer at the lowest setting. Gradually add flour and mix for 5 minutes.
Add salt and continue to mix for another 5 to 7 minutes.
Adjust mixer to speed 2 and mix dough for 3 final minutes.
Scale dough into 11 ounce balls cover and refrigerate overnight.
The following day remove the dough from the refrigerator and allow to rest at room temperature for 6 hours at 70° F.
Pizza Pinwheels: Dust a wood surface with the flour and stretch the pizza dough into 12-inch circles.
Arrange the remaining ingredients on top of the stretched pizza dough.
Roll the pizza into a log form. Cut into ¾ inch circles. Place onto a non-stick baking tray.
Place into a pre-heated 350° F. oven for 8 to 10 minutes. Remove and serve immediately.
To order, contact your Smithfield Culinary sales representative, call 888-326-7526 or contact us for more information.
Email Recipe