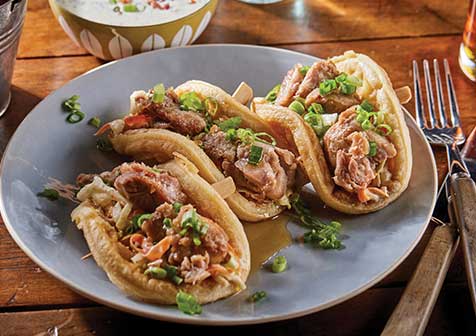 Ingredients
1 lb Smithfield Boneless KC Wild Wings
8 slices Smithfield Applewood Smoked Bacon
12 oz Southern Coleslaw (recipe follows)
8 oz ranch dressing
4 sweet waffles
4 oz local maple syrup
Southern Coleslaw:
1 cup mayonnaise
¼ cup Creole mustard
2 Tbsp apple cider vinegar
2 Tbsp raw sugar
2 Tbsp local honey
1 Tbsp lemon juice
1 tsp Tabasco
Salt and pepper, to taste
1 lb shredded cabbage
½ cup shredded carrot
Details
Product:
Bacon, Pig Wings
Meal Course:
Breakfast, Dinner, Lunch
Dish Type:
Entrée, Sandwich
Preparation
Preheat oven to 350°F, and bake boneless wings for 12 to 15 minutes.
Bake bacon for 3 to 5 minutes. Remove bacon from oven, and allow to cool. Rough-chop bacon, and set aside.
Place waffle in middle of plate, and fold waffle like a taco. Add Southern Coleslaw, wings tossed in local maple syrup.
Add drizzle of ranch dressing, and top with crumbled applewood smoked bacon.
Southern Coleslaw:
Combine all dressing ingredients in medium mixing bowl, and whisk until fully incorporated.
Fold in shredded cabbage and carrots.
Refrigerate for 30 minutes before using.
To order, contact your Smithfield Culinary sales representative, call 888-326-7526 or contact us for more information.
Email Recipe