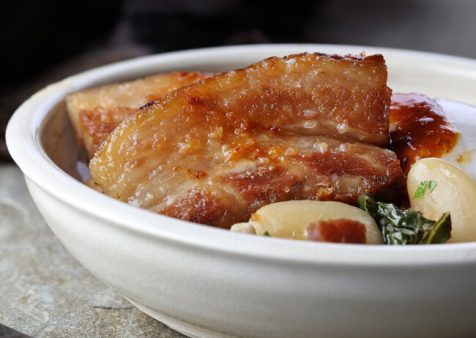 Ingredients
4 oz. Sous Vide Pork Belly, sliced ½-inch thick (recipe to follow)
Salt, to taste
Oil, as needed
1 oz. Sous Vide Pork Belly, diced (recipe to follow)
¼ red bell pepper, diced
1½ cups cooked butter beans (or dry lima beans) (recipe to follow)
1 cup Sous Vide Pork Belly liquid
2 oz. kale, julienned
1 tsp. chopped parsley
1 tsp. red wine vinegar
1 poached egg
1 Tbsp. Farofa (recipe to follow)
1 tsp. harissa paste
Sous Vide Pork Belly:
3 lb. Pork Belly
2 Tbsp. kosher salt
4 cloves garlic
4 sprigs fresh thyme
1 bay leaf
1 cup Madeira wine, reduced by ½
Butter Beans:
Olive oil, as needed
1 shallot, diced
2 cloves garlic, smashed
½ lb. dried butter beans
4 cups water
2 Tbsp. kosher salt
Farofa:
2 cloves garlic, chopped
1 tsp. kosher salt
3 oz. slab bacon, diced
1 cup manioc (cassava) flour
1 Tbsp. unsalted butter
Details
Product:
Pork Belly
Meal Course:
Dinner
Dish Type:
Entrée
Preparation
Sauté Sous Vide Pork Belly slices with small amount of salt and oil until crispy and warm; set aside.
In sauté pan, cook diced Sous Vide Pork Belly in small amount of oil until caramelized.
Add bell peppers and lightly sauté until coated with fat.
Add butter beans, Sous Vide Pork Belly liquid and kale and begin to cook until beans are hot and all liquid is absorbed.
Add chopped parsley and vinegar and adjust seasoning to your liking.
Place beans in serving dish.
Arrange pork belly slices and place poached egg on top, sprinkle with Farofa, drizzle harissa paste over the top and serve.
Sous Vide Pork Belly:
Season pork belly with salt and sear in skillet until golden brown.
While searing, puree garlic, thyme and bay leaf until a smooth paste has formed.
Remove browned pork belly from pan and rub with the paste while still warm.
Place this in cooler overnight.
The next day, place pork belly in bag with Madeira wine and Cryovac it.
Cook pork belly in immersion circulator at 160°F for 16 hours.
Shock bag in ice water and store until ready to use.
Butter Beans:
Heat sauce pot over medium heat with olive oil.
Lightly sauté shallots and garlic in olive oil until soft.
Add beans and water, bring to a simmer and cook for 1 hour.
Add salt to pot and cook for 10 more minutes. Add more water if beans are not immersed.
Cool beans in their cooking liquid and then discard liquid.
Farofa:
Mash garlic and a few pinches of salt with side of knife until pasty.
Place bacon in large skillet over medium heat and let it cook, stirring, for 5 minutes, or until fully rendered and lightly browned.
Turn heat down to medium-low and cook garlic until raw smell is gone.
Add manioc flour and cook, stirring and shaking pan continuously, until flour is lightly toasted and crunchy, roughly 6 to 8 minutes.
Turn off heat and stir in butter. Add salt to taste and set aside until ready to use.
To order, contact your Smithfield Culinary sales representative, call 888-326-7526 or contact us for more information.
Email Recipe