Pork Belly Skewers in Anticuchera Sauce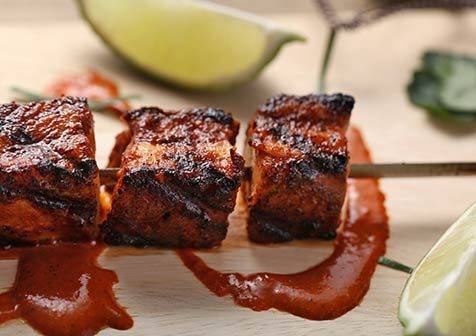 Ingredients
Anticuchera Sauce
1 cup aji panca chile paste
¼ cup minced garlic
1 Tbsp. ground black pepper
1 Tbsp. toasted ground cumin
1 Tbsp. dried oregano
3 Tbsp.s kosher salt
1 cup red wine vinegar
1½ cups blended oil
Pork Belly
5 lbs. Pork Belly
¼ cup kosher salt
¼ cup ground black pepper
½ gal. chicken broth
1 cup Anticuchera Sauce (recipe follows)
½ cup blended oil
Details
Brands Offered: Farmland, Smithfield Culinary DURoC
Product:
Pork Belly
Meal Course:
Dinner
Dish Type:
Appetizer, Entrée
Preparation
To prepare Anticuchera Sauce, place all ingredients in food processor and blend until smooth.
For Pork Belly, score skin side of pork belly in diamond pattern. Season both sides of pork belly with salt and pepper.
In large pan over medium-high heat, sear pork belly until golden brown on both sides. Once pork belly is seared properly, add chicken broth and Anticucherra Sauce.
Place in covered 2-inch hotel pan, and cook in convection oven at 275°F for 3½ hours.
Once cooked, remove from oven and let pork belly cool in liquid for 1 hour.
Put pork belly in 2-inch hotel pan. Cover pan with additional hotel pan and add 15 to 20 pounds of weight to help compress pork belly.
Let pork belly sit overnight under refrigeration.
Next, cut pork belly into 1-ounce cubes and skewer.
Marinate pork belly skewers in remaining Anticuchera Sauce for up to 1 day in advance before grilling. Grill until marked and internal temperature reaches 165°F.
Chef's note: To cook the skewers, try not to put over too intense a heat/fire. The pork belly has a lot of fat, and this will cause it to flame up and burn.
To order, contact your Smithfield Culinary sales representative, call 888-326-7526 or contact us for more information.
Email Recipe