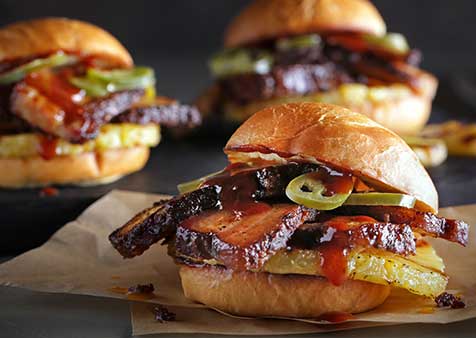 Ingredients
8 full slices of Smoked Pork Belly, cut in half
4 bakery-fresh buns
4 fresh pineapple slices
Pickled Peppers, to taste (recipe to follow)
8 Tbsp. favorite BBQ sauce
Pickled Peppers:
4 Fresno peppers
4 jalapeño peppers
1 cup water
1 and 1/4 cups white vinegar
2 Tbsp. kosher salt
1/4 cup sugar
Details
Product:
Smoke'Nfast Smoked Pork Belly
Meal Course:
Dinner, Lunch
Dish Type:
Appetizer, Entrée, Sandwich
Preparation
Slice pork belly against the grain into 1/4-inch to 1/2-inch slices and cut in half to make stackable-sized slices.
Roast or grill pork belly until nicely charred.
Stack 4 halved pork belly slices, 1 pineapple slice and Pickled Peppers, to taste, on bakery-fresh bun.
Top with 2 Tbsp. BBQ sauce.
Pickled Peppers:
Combine all ingredients.
To order, contact your Smithfield Culinary sales representative, call 888-326-7526 or contact us for more information.
Email Recipe