Pork Belly Tacos with Mojo Aioli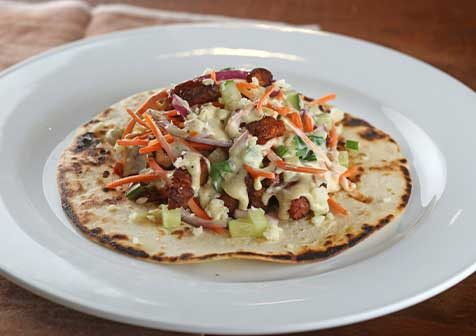 Ingredients
3 Tbsp. cooking oil
3 cloves garlic, minced
½ cup guava paste
½ cup hot sauce
10 flour tortillas
½ carrot, shredded
½ cucumber, small diced
½ cup cotija cheese
Mojo Aioli (recipe below)
Mojo Aioli
8 egg yolks
10 cloves garlic
1 oz. blended oil
1 Tbsp. dry white wine
1 lime, juiced
1 tsp. black pepper
1 tsp. oregano
1 tsp. cumin
1 tsp. adobo seasoning
Pinch of salt
Details
Product:
Pork Belly
Meal Course:
Dinner, Lunch
Dish Type:
Appetizer, Entrée, Sandwich
Preparation
In medium saucepan, heat oil on medium heat. Cut pork belly into 1/4-inch cubes, and slowly cook them in pan till crispy.
In small saucepan, heat garlic and melt guava paste with hot sauce. Cook until incorporated.
Toss pork belly cubes in guava hot sauce till covered.
Torch tortillas to get a little char on them.
On tortillas, place a handful of pork belly, and top with carrots, cucumbers, cotija cheese and drizzle of Mojo Aioli.
For Mojo Aioli, in food processor, blend egg yolks and garlic. Slowly add blended oil. Add wine, splash of lime, black pepper, oregano, cumin, adobo seasoning and salt. Blend until incorporated.
To order, contact your Smithfield Culinary sales representative, call 888-326-7526 or contact us for more information.
Email Recipe