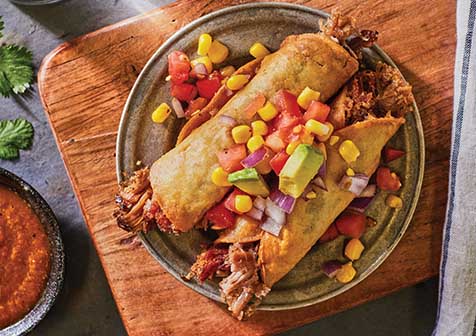 Ingredients
8 thick white corn tortillas
16 oz Smoke'NFast Pork Carnitas
8 oz Pepper Jack cheese
8 oz Corn Pico de Gallo (recipe follows)
2 avocados, quartered
4 fl oz smoked chili crème
Corn Pico de Gallo:
3 cups corn kernels, roasted
1 cup medium-diced tomato
1 cup medium-diced red onion
1 bunch cilantro, mincedLime juice, to tasteSalt and pepper, to taste
Chili Crème:
6 canned chipotles
1 lime, juiced
16 fl oz mayonnaise
2 oz cilantro
Salt and pepper, to taste
Details
Product:
Carnitas, Smoke'NFast Pork Carnitas
Meal Course:
Dinner, Lunch
Dish Type:
Appetizer, Entrée
Preparation
In cast iron skillet, with little oil, lightly fry corn tortilla until soft.
Lay tortillas flat, and fill each with pork carnitas and Pepper Jack cheese.3.
Roll into flautas, and secure with toothpicks.
4.Deep-fry until crisp.
5.Top with Corn Pico de Gallo, avocados, and Chili Crème.
Corn Pico de Gallo:
Combine ingredients, and set aside until needed.
Chili Crème:
Place all but seasonings in Robot-Coupe, pulse 3 times, and then add cilantro and pulse a few more times until somewhat smooth. Season.
To order, contact your Smithfield Culinary sales representative, call 888-326-7526 or contact us for more information.
Email Recipe