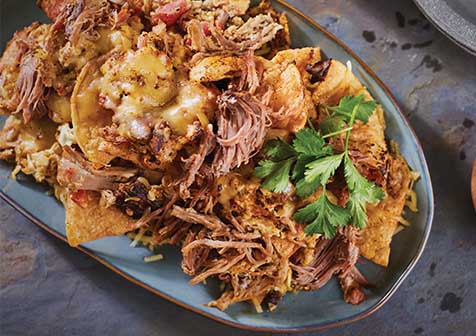 Ingredients
1 red onion, sliced
2 Roma tomatoes
1 serrano pepper
1 lb Smoke'NFast Pork Carnitas
10 eggs Salt and pepper, to taste
10 corn tortillas, cut into strips and fried crisp, divided
10 oz Pepper Jack cheese, shredded
6 oz cheddar cheese
5 fl oz ranch dressing
5 fl oz Chipotle Sauce (recipe follows)
2 oz cilantro
Chipotle Sauce:
6 canned chipotles
1 lime, juiced
16 fl oz mayo
2 oz cilantro Salt and pepper, to taste
Details
Product:
Carnitas, Smoke'NFast Pork Carnitas
Meal Course:
Breakfast
Dish Type:
Entrée
Preparation
In cast iron skillet, sweat onions; add tomatoes and serrano peppers. 2
Add pork carnitas to combine. 3
Add beaten eggs, and allow to set into soft curds. Season with salt and pepper.
In casserole dish, layer tortilla chips, cheeses, Migas followed by sauces. Repeat until pan is full. Top with more chips, sauce and cilantro.
Chipotle Sauce:
Place first 3 ingredients in Robot-Coupe, and pulse 3 times, and then add cilantro and pulse a few more times until somewhat smooth. Season with salt and pepper.
To order, contact your Smithfield Culinary sales representative, call 888-326-7526 or contact us for more information.
Email Recipe