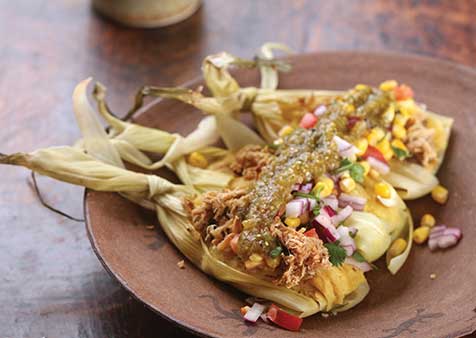 Ingredients
3 lb Masa Dough, uncooked
15 corn husks, soaked in hot water
10 oz Roasted Corn Pico de Gallo
8 fl oz Salsa Verde
Masa Dough
18 fl oz Masa Harina
12 fl oz water, very hot
16 fl oz lard, chilled
12 tsp salt
1 ¼ tsp baking powder
2 fl oz chicken stock, grilled
Place Masa in bowl of mixer with a paddle attachment. On low speed, slowly add the water in a constant stream.
Add lard, salt, baking powder, chicken stock, and mix until combined.
Roasted Corn Pico de Gallo:
3 cups corn kernels, roasted
1 cup diced medium tomato
1 cup diced medium red onion
1 bunch cilantro, minced
Lime juice, to taste
Combine ingredients and season to taste
Salsa Verde:
12 tomatillos
1/2 onion
3 cloves garlic
3 serrano peppers
8 oz cilantro
2 fl oz Tabasco Green Pepper Sauce
Chare tomatillo, onion, garlic, and peppers on flat top until soft and tomatillos are light green.
Place in robo coupe and pulse three times, then add cilantro and pulse a few more times until somewhat smooth.
Season with salt and pepper. Add Green Tabasco.
Details
Product:
Carnitas
Meal Course:
Dinner, Special Occasion
Dish Type:
Entrée
Preparation
Mold 5 oz of Masa dough into tubs, make canal on top of the tub for filling.
Push carnitas into canal and wrap with the corn husk to seal.
Place in steamer for 20 minutes until cooked.
Remove and serve (or cool and reheat in steamer later).
Serve with corn Pico and salsa on the side.
To order, contact your Smithfield Culinary sales representative, call 888-326-7526 or contact us for more information.
Email Recipe