Pork Chops with Parsnip, Apple, Brown Butter and Sage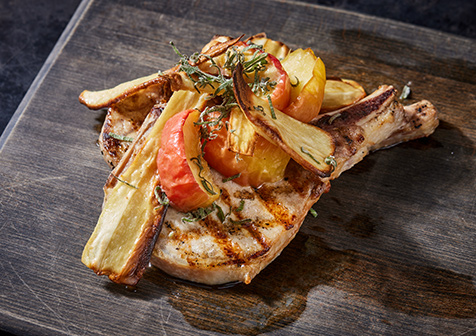 Ingredients
Pork Chops
4 Smithfield Bone-In Thick Center Cut or Rib Chop Pork Chops
2 Tbsp extra virgin olive oil
2 tsp salt
1 tsp black pepper
Parsnip and Apples
3 medium sized parsnip, peeled
2 honey crisp apples
3 Tbsp olive oil
1 tsp salt
8 leaves of fresh sage, chiffonade
Brown Butter Demi Vinaigrette
½ lb. unsalted butter
1 small shallot, minced
3 oz apple cider vinegar
1 oz honey
2 oz veal stock
Kosher salt to taste
Details
Product:
Pork Chops
Meal Course:
Dinner, Lunch
Dish Type:
Entrée
Preparation
Pork Chops
Prepare your chops by rubbing both sides with olive oil.
Sprinkle freshly ground black pepper and kosher salt on each side of the pork chops and rub it in.
Heat 1 Tbsp olive oil in a 12-inch skillet over high heat until lightly smoking.
Add pork chops and cook until first side is nicely browned, 4 to 6 minutes. Flip and continue to cook, about 3 minutes longer. Transfer to a plate and tent with foil.
Parsnip and Apples
Preheat the oven to 400°F.
Grease an oven tray or use baking paper
Cut apples into 8 wedges and toss with 1 Tbsp of olive oil and a pinch of kosher salt. Cook for 20 minutes or until soft.
Cut the end off each parsnip then slice into lengths. Toss with 2 Tbsp of olive oil, then season with kosher salt and freshly ground pepper and lay on an oven tray. Cook for approximately 30 minutes or until golden and slightly crispy.
Brown Butter Demi Vinaigrette
For vinaigrette, in medium saucepan, melt butter over high and watch closely as it foams, falls and foams again while the solids start to brown and smell like toasted hazelnuts. This may take 3 to 5 minutes depending on your stove. Remove from heat as soon as the butter browns so it doesn't burn.
Place shallots in medium stainless-steel bowl. Place fine-mesh strainer over bowl.
Slowly pour butter through strainer, being careful as it will foam; discard solids (little browned bits). Let cool 5 minutes. Whisk in vinegar, honey and stock. Taste; adjust if desired. Whisk again.
This vinaigrette must be served warm.
To order, contact your Smithfield Culinary sales representative, call 888-326-7526 or contact us for more information.
Email Recipe