Pork Chops with Peaches, Farro and Burnt Honey Vinaigrette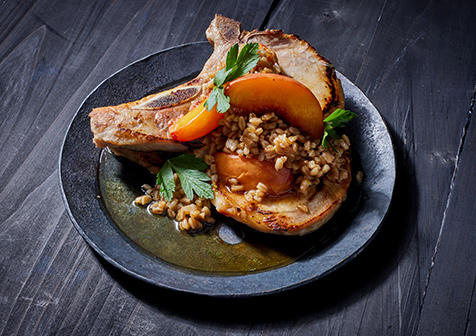 Ingredients
Pork Chops
4 Smithfield Bone-In Thick Center Cut or Rib Chop Pork Chops
2 Tbsp extra virgin olive oil
2 tsp salt
1 tsp black pepper
Peaches and Farro
3 peaches, pits removed, cut into ¼ slices (see notes)
½ tsp salt
Pinch of dried red chile flakes
¼ cup fresh basil leaves, roughly chopped
1 ½ cups cooked farro
Burnt Honey Vinaigrette
500 grams mild honey
350 grams champagne vinaigrette
Grated lemon zest from 4 lemons
4 grams kosher salt
2 grams fresh ground black pepper
35 grams extra virgin olive oil
Details
Product:
Pork Chops
Meal Course:
Dinner, Lunch
Dish Type:
Entrée
Preparation
Pork Chops
Prepare your chops by rubbing both sides with olive oil.
Sprinkle freshly ground black pepper and kosher salt on each side of the pork chops and rub it in.
Heat 1 Tbsp olive oil in a 12-inch skillet over high heat until lightly smoking.
Add pork chops and cook until first side is nicely browned, 4 to 6 minutes. Flip and continue to cook, about 3 minutes longer. Transfer to a plate and tent with foil.
Peaches and Farro
After cooking the pork chops, lower the heat to medium-low and add peaches, salt and dried chile flakes.
Stir gently until peaches begin to soften but retain their shape, 2 to 3 minutes. Pour any juices from the plate where you've placed the pork chops back into skillet and add the vinaigrette.
Cook, scraping up any browned bits from the bottom of the pan and swirling pan.
Season to taste with salt and pepper and stir in half of the basil.
Burnt Honey Vinaigrette
Pour the honey into a small saucepan. Cook on medium heat until it begins to foam up, then reduce heat slightly and cook 4 to 5 minutes, swirling the pan occasionally, or until the honey begins to caramelize and turn a light brown.
To order, contact your Smithfield Culinary sales representative, call 888-326-7526 or contact us for more information.
Email Recipe