Pork Katsu with Ham Fried Rice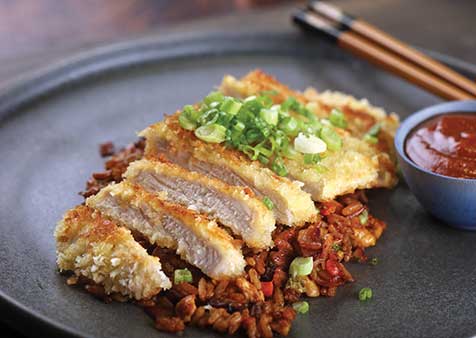 Ingredients
Ham Fried Rice:
2 cups long-grain rice
2 eggs, whisked
4 Tbsp canola oil, divided
1 tsp sesame oil
1 shallot, minced
4 garlic cloves
1 1" piece ginger, minced
8 shiitake mushrooms
1/2 carrot, small diced
1 broccoli crown, chopped
1 Tbsp soy sauce
2 Tbsp dark mushroom soy
2 tsp seasoned rice wine vinegar
green onions, for garnish
Tonkatsu sauce
Katsu:
4 eggs, whisked
1 Tbsp water
2 cups panko breadcrumbs
4 oz canola oil
Details
Product:
Ham, Pork Chops
Meal Course:
Dinner
Dish Type:
Entrée
Preparation
For Ham Fried Rice, cook long-grain, place it on sheet tray in thin layer, and let cool in refrigerator, uncovered, preferably overnight.
After rice is cool, heat wok or large sauté pan, and add 1 Tbsp canola oil. Add whisked eggs to sauté pan, and continue to move eggs around until cooked through. Remove eggs from pan and set aside.
Add remaining oils to pan, and heat until smoke point. Add shallots, garlic, ginger and mushrooms, and cook until tender. Add carrots, and cook until al dente. Add long-grain rice and once rice is hot, add ham and broccoli, and cook. Add remaining ingredients, except green onions, and adjust seasoning. Remove from heat, and keep warm until service.
For Katsu, place pork chops between plastic wrap and pound pork into thin cutlets. Season pork chops with salt and white pepper.
Mix eggs with water to make egg wash. Dip pork chops into egg wash and then into panko breadcrumbs.
Heat canola oil in large sauté pan over medium heat. Add breaded pork chops to sauté pan, and lightly brown on each side. Place pork chops on paper towels to absorb any excess oil. Cut pork into 1/2-inch strips.
Assemble by putting a cup of fried rice, topped with pork chop strips, garnish with green onion and serve tonkatsu sauce on the side.
To order, contact your Smithfield Culinary sales representative, call 888-326-7526 or contact us for more information.
Email Recipe