Pork Tenderloin and Bacon Sandwich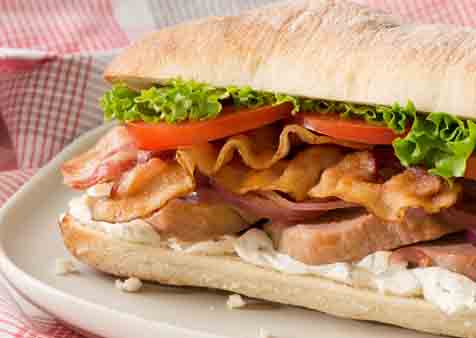 Ingredients
8 slices Par-Cooked, Roasted Smithfield Bacon
2 ea. Garlic cloves, peeled, minced
1 tsp. Dried thyme
1 tsp. Dried oregano
1 tsp. Dried basil
1/2 tsp. Paprika
1 tsp. Ground black pepper
1 tsp. Salt
As needed Olive oil
1/4 cup Red onion, peeled, thinly sliced
4 each Ciabatta bread
4 Tbsp. Garlic and herb cheese spread
4 each Red lettuce leaves
Details
Product:
Bacon, Pork Tenderloin
Meal Course:
Lunch
Dish Type:
Entrée, Sandwich
Preparation
Heat oven to 375°F.
Place strips of roasted par-cooked bacon on a sheet pan and bake in the oven for 12 minutes or until crispy.
In a small bowl, mix minced garlic, thyme, oregano, basil, paprika, salt, and black pepper.
Rub the pork tenderloin with olive oil and evenly coat with dry seasoning.
Place tenderloin on a sheet pan and cook in the oven for 20 minutes, uncovered, or until pork is cooked to 145°F. Remove from the oven and let rest for 10 minutes, then slice into 1/4-inch thick pieces.
Place sliced red onions on a sheet pan and place in the oven for 5 minutes, or until lightly browned.
To assemble the sandwich, spread 1 tablespoon of garlic and herb cheese on the bottom half of a ciabatta roll. Next, layer 1/4 of the sliced tenderloin, then top with red onions, lettuce, cooked bacon and the top half of the ciabatta roll.
Prep Time: 15 min.
Cook Time: 40 min.
To order, contact your Smithfield Culinary sales representative, call 888-326-7526 or contact us for more information.
Email Recipe