Pork Tenderloin with Bordeaux Cherry Port Glaze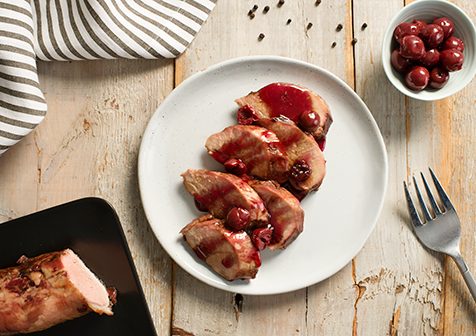 Ingredients
1 cup Port wine
1-1/2 cup Brown sugar, dark
2 Tbsp. Orange peel, julienne strips
2 tsp. Black pepper, coarse ground
1 cup Bordeaux cherries, finely chopped
Details
Product:
Pork Tenderloin
Meal Course:
Dinner
Dish Type:
Entrée
Preparation
Heat oven to 350°F.
To make the glaze, simmer the port wine, brown sugar, orange peel and fresh cracked pepper until it reduces by half for approximately 8 minutes.
Remove orange peel and add diced cherries, stirring until mixture becomes thick and syrupy. Reserve a few cherries to garnish tenderloin before serving.
Remove pork tenderloin from package and rinse clean. Pat dry and place on a clean surface.
Brush glaze evenly over the pork tenderloin. Line a sheet pan with aluminum foil and spray a light layer of non-stick cooking spray onto the foil. Place the glazed pork tenderloin onto the foil-lined sheet pan and place in the oven.
Cook pork for approximately 18-20 minutes, re-applying the glaze after 10 minutes. Cook pork until it reaches an internal temperature of 145° F.
Remove pork tenderloin from the oven and let rest for 10 minutes. Slice and serve with remaining glaze.
Prep Time: 10 min.
Cook Time: 30 min.
To order, contact your Smithfield Culinary sales representative, call 888-326-7526 or contact us for more information.
Email Recipe