Pork Tenderloin with Fig Chutney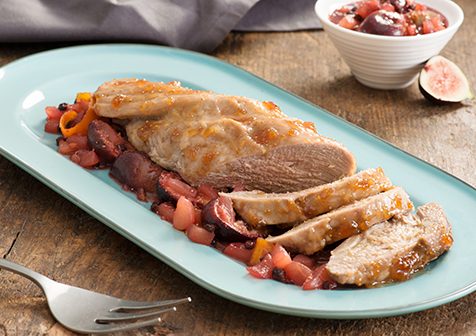 Ingredients
1 cup red wine vinegar
1/8 cup light brown sugar
1/2 cup yellow onion, peeled, chopped
1 ea. pear, cored, chopped
1 Tbsp. ginger root, pealed, grated
1/2 Tbsp. orange zest
1 ea. cinnamon stick
3/4 tsp. sea salt
A pinch ground allspice
1/2 lb. figs, stems removed, cut in half
1/4 cup dried currants
1/2 Tbsp. extra virgin olive oil
1 Tbsp. fig jam
To taste black pepper, coarse ground
Details
Product:
Pork Tenderloin
Meal Course:
Dinner
Dish Type:
Entrée
Preparation
For Fig Chutney:
In a large saucepan, combine the vinegar, sugar, onion, pear, ginger, orange zest, cinnamon stick, salt, and allspice. Bring to a boil over high heat. Reduce heat and simmer until mixture becomes thick and syrupy.
Add the figs and currants then cook just until the figs begin to fall apart, approximately 30 minutes. Most of the liquid from the figs should be evaporated.
Remove cinnamon stick and transfer the chutney into a glass bowl to cool.
For Pork Tenderloin:
Preheat oven to 350°F.
Whisk together olive oil, 1 tablespoon of fig chutney, salt, and pepper in a small bowl.
Remove pork tenderloin from package and rinse clean. Pat dry and place on a clean surface.
Brush glaze evenly over the pork tenderloin. Line a sheet pan with aluminum foil and spray a light layer of non-stick cooking spray onto the foil. Place the glazed pork tenderloin onto the foil-lined sheet pan and place in the oven.
Cook pork for approximately 18-20 minutes, or until it reaches an internal temperature of 145°F.
Remove pork tenderloin from the oven and let rest for 10 minutes. Slice and serve with fig chutney.
Serving Suggestion: Serve pork tenderloin alongside creamy mashed potatoes
Prep Time: 15 min.
Cook Time: 30 min.
To order, contact your Smithfield Culinary sales representative, call 888-326-7526 or contact us for more information.
Email Recipe