Pulled Pork & Sweet Potato Hash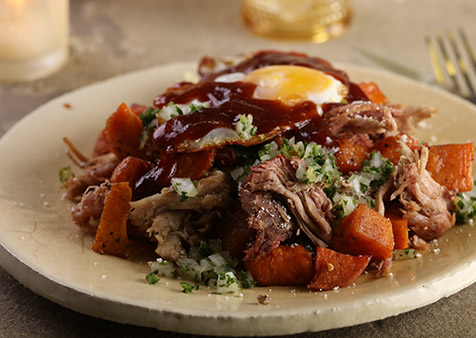 Ingredients
Ingredients:
16 oz Sweet Potato Bites (recipe follows)
Salt and pepper, to taste
16 oz Curly's by Smithfield® Smoked Pulled Pork
3 Tbsp BBQ sauce, divided
4 eggs
½ cup Cotija cheese
¼ cup Green Pico (recipe follows)
Green Pico:
6 oz dill pickles
½ medium yellow onion
1 bunch parsley
½ jalapeño, seeds removed, chopped
1 lime, juiced
Salt and pepper, to taste
Roasted Sweet Potato Bites:
2 large sweet potatoes
2 Tbsp olive oil1 tsp blackening seasoning
Details
Product:
Pulled Pork
Meal Course:
Dinner, Lunch
Dish Type:
Entrée, Side Dish
Preparation
Place Sweet Potato Bites in fryer for 2½ minutes. Remove from fryer, place in mixing bowl, and season with salt and pepper.
Heat up pulled pork in microwave for 40 seconds, and place in same mixing bowl. Add 2 tablespoons BBQ sauce, and mix potatoes and pork.
Cook eggs over easy in separate pan.
Place potatoes and pulled pork on plates.
Sprinkle Cotija cheese over mixture. Sprinkle Green Pico over cheese. Place eggs on top.
Drizzle with remaining 1 tablespoon BBQ sauce all over to garnish.
For Green Pico, finely chop pickles, onion and parsley, and place in mixing bowl. Add chopped jalapeño and lime juice to same mixing bowl, and mix. Season with salt and pepper.
For Roasted Sweet Potato Bites, peel sweet potatoes, cut into ½-inch dice, and place in mixing bowl. Add olive oil and blackening seasoning, and toss until potatoes are completely covered. Place onto sheet pan, and bake at 425°F for 15-20 minutes until potatoes are soft. Remove from oven, and place in refrigerator to cool.
To order, contact your Smithfield Culinary sales representative, call 888-326-7526 or contact us for more information.
Email Recipe