Roasted Garlic and Herb Knots with Bacon and Caramelized Onion Dip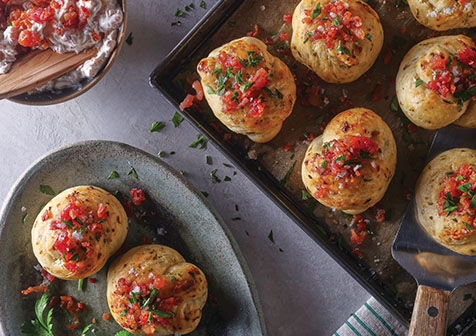 Ingredients
5-oz portion prepared pizza dough
1 ¼ tsp Roasted Garlic Puree (recipe follows)
1 ¼ tsp Mixed Herb Puree (recipe follows)
Sprinkle of flaky sea salt
4 oz Bacon and Caramelized Onion Dip (recipe follows)
Olive oil, as needed
Chopped parsley or chives, for garnish on dip
Roasted Garlic Puree:
1 cup garlic cloves
4 Tbsp canola oil
4 Tbsp olive oil
2 Tbsp water
Mixed Herb Puree:
1 Tbsp chopped rosemary
1 Tbsp chopped thyme
3 Tbsp chopped Italian parsley
½ cup extra virgin olive oil
Bacon and Caramelized Onion Dip:
1 cup Smithfield Bacon Bits
1 cup

 

¼-inch-diced dark-brown-caramelized onions

 

2 ½ cups sour cream
Scant ½ tsp kosher salt
1 tsp lemon juice
Details
Product:
Bacon Bits
Dish Type:
Appetizer
Preparation
Roll or press prepared pizza dough to about ¼-inch thick. Spread Roasted Garlic Puree and Mixed Herb Puree onto rolled dough. Fold dough over multiple times, and press together to incorporate purees. Continue to knead dough until everything is distributed. Roll dough into an evenly shaped log, and portion into 5 1-oz portions. Roll each portion into a "rope" approximately 8 inches long. Tie each rope into a knot, and then tuck edges under. Place onto parchment-lined half-sheet pan, cover loosely with plastic wrap, and proof in proofing box or in warm area for about 30 minutes. Brush tops very lightly with a bit of garlic and herb purees. Sprinkle knots with flaky sea saltt. Bake in a 350°F convection oven, medium fan, for 10-12 minutes or until baked through. Remove from oven, and cool. Reheat for just a minute when serving, and brush with olive oil. Serve with Bacon and Caramelized Onion Dip, garnished with some chopped parsley or chives.
Roasted Garlic Puree:
Place garlic and oils in small sauté pan. Cook in oven or on stovetop gently until garlic cloves are completely soft and lightly golden in color. Remove from oven or stove, and cool. Puree until smooth, adjusting with water for smooth consistency. Season to taste.
Mixed Herb Puree:
Combine all ingredients, and puree until smooth.
Bacon and Caramelized Onion Dip:
Combine all ingredients and mix well. Allow to sit for a day for flavors to meld.
To order, contact your Smithfield Culinary sales representative, call 888-326-7526 or contact us for more information.
Email Recipe