Roasted Pork Belly with Cornmeal Porridge (Brazil)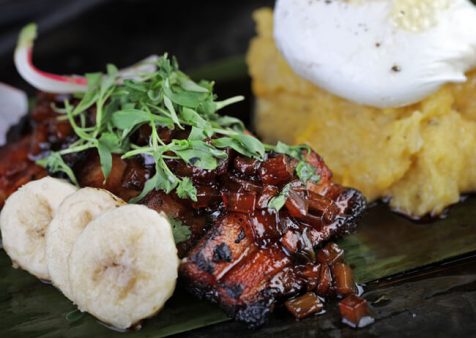 Ingredients
1 lb. Pork Belly
Salt and pepper, to taste
4 oz. Sugarcane-Tamarind Glaze (recipe follows)
2 cups Cornmeal Porridge (recipe follows)
4 Poached Eggs (recipe follows)
1 Glazed Banana (recipe follows)
Banana leaf
Micro cilantro
3 Tbsp. Tapioca (recipe follows)
Breakfast radishes, shaved
Sugarcane-Tamarind Glaze:
½ cup diced pineapple
½ cup sugarcane syrup
1 jalapeño, diced
½ cup soy sauce
½ cup rice wine vinegar
1 vanilla bean
½ cup diced mango
2 Tbsp. tamarind
Juice of 2 limes
Cornmeal Porridge:
½ onion, diced
1 corn on the cob, kernels
1 Tbsp. olive oil
3 cups water
1 cup cornmeal
Salt and pepper, to taste
Poached Eggs:
1 qt. water
Salt, to taste
3 Tbsp. white vinegar
4 eggs
Glazed Banana:
1 banana, sliced into 1-inch-thick pieces
Sugar, to taste
Tapioca Pearls:
3 Tbsp. tapioca pearls
12 Tbsp. water
Details
Pork Belly brands offered: Farmland, Farmland Smoke'NFast, Smithfield Culinary DURoC
Product:
Pork Belly
Meal Course:
Breakfast, Lunch
Dish Type:
Entrée
Preparation
Slice pork belly into ½ thick pieces.
Season with salt and pepper, to taste.
Crispy render the pork belly in a sauté pan at medium heat.
Cook porridge.
Poach eggs.
Glaze bananas.
Assemble on top of banana leaf, and top with micro cilantro, tapioca, and shaved breakfast radishes.
Sugarcane-Tamarind Glaze:
Put all ingredients in saucepan on medium and reduce by half.
Cornmeal Porridge:
Sauté diced onions and corn in olive oil over medium heat.
Add water, bring to simmer and whisk in cornmeal.
Cook at medium heat until porridge is cooked through. Adjust seasoning as needed.
Poached Eggs:
In pot, gently simmer water.
Add salt and vinegar, soft-poach 4 eggs.
Glazed Banana:
Sprinkle sugar on banana slices, and glaze with torch.
Tapioca Pearls:
Add tapioca pearls to water in pan and cook until translucent.
To order, contact your Smithfield Culinary sales representative, call 888-326-7526 or contact us for more information.
Email Recipe