Scotch Egg with Sauce Gribiche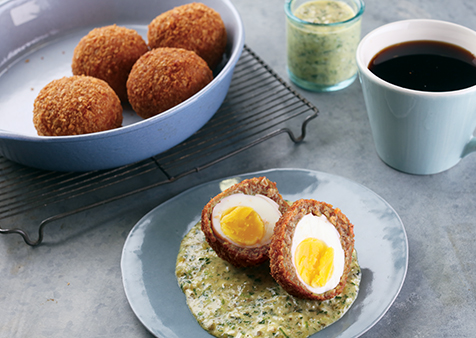 Ingredients
Ingredients:
8 large eggs, divided
½ cup all-purpose flour
½ cup panko breadcrumbs
½ cup crushed cornflakes cereal
12 Smithfield™ Breakfast Patties
Sauce Gribiche:
1 Tbsp red wine vinegar
¼ cup extra virgin olive oil
½ tsp Dijon mustard
1 egg, hard cooked, chopped
¼ tsp minced tarragon
½ tsp minced chives
1 tsp minced parsley
¼ tsp salt
¼ tsp black pepper
1 Tbsp minced shallots
2 tsp minced capers
2 tsp minced cornichons
Details
Meal Course:
Lunch
Dish Type:
Appetizer
Preparation
Place 6 eggs in lidded pot large enough to hold them in a single layer. Fill with cold water until eggs are covered. Place lid on pot. Bring water to boil; then remove from heat. Let eggs rest in water for 4 minutes; thendrain. Cool eggs down with cold running water or with ice.
Peel eggs, place them in bowl of cold water, and refrigerate until eggs are completely chilled. Keep in fridge until ready to use.
Whisk 2 remaining eggs in bowl. Set up 2 other bowls, 1 with flour and the other with mixed panko and cornflakes.
Take patties and form a "bowl" by making an indentation in center of patty. Take 1 peeled egg and place inside "bowl," and then take another breakfast patty and gently wrap egg with patty until completely covered. Repeat until all eggs are wrapped. Chill until patty is cold to touch.
Individually coat each wrapped egg in flour, dip in egg wash, and gently coat with panko-cornflake mix. Chill eggs until ready to fry.
Bring pot of oil to 345ºF. Gently drop each egg into oil, and cook until panko coating is golden and crispy.
For Sauce Gribiche, mix ingredients and set aside.
Serve coated eggs with Sauce Gribiche.
To order, contact your Smithfield Culinary sales representative, call 888-326-7526 or contact us for more information.
Email Recipe