Seared Pork Belly Breakfast Bowl – Kimchi, Pickled Vegetables, Hard-Cooked Egg, Steamed Rice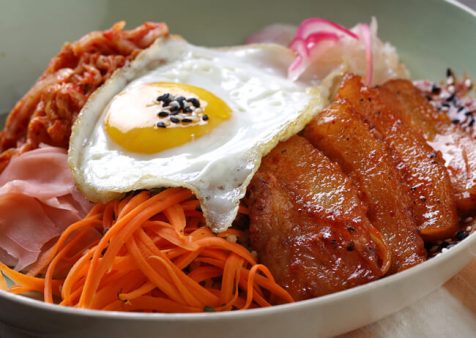 Ingredients
4 6-oz. servings Steamed Rice (recipe follows)
1 lb. marinated, cooked Pork Belly, skinless, thinly sliced about ⅛ inch or less (recipe to follow)
4 oz. kimchi (available at any well-stocked Asian grocer)
4 oz. pickled daikon and carrot (available at any well-stocked Asian grocer)
8 slices cucumber, ¼-inch slices
4 hard-cooked eggs, sliced
4 leaves Korean perilla or shiso, julienned
Marinade for Pork Belly:
1 lb. Pork Belly, skinless, thinly sliced about 1⅛ inch or less
2 Tbsp. gochujang
1 tsp. gochugaru or chili flakes
2 Tbsp. soy sauce
2 Tbsp. sugar
1 Tbsp. sesame oil
1 Tbsp. minced ginger
3 cloves garlic, minced
1 onion, sliced
1 Tbsp. lime juice
1 tsp. ground black pepper
1 tsp. salt
Steamed Rice:
2 cups rice
Water to cover
Details
Pork Belly brands offered: Farmland, Farmland Smoke'NFast, Smithfield Culinary DURoC
Product:
Pork Belly
Meal Course:
Breakfast
Dish Type:
Entrée
Preparation
To serve, add 6 oz. rice to each bowl, and then top with ¼ of each, in order, pork slices, kimchi, pickled daikon and carrot, cucumber slices, egg slices and julienned perilla.
Marinade for Pork Belly
Mix all ingredients except pork belly until marinade is smooth.
Toss pork in marinade until evenly coated. Marinate for 3 hours to overnight.
When pork is ready, sauté in pan and cook until cooked through.
Steamed Rice
Wash rice until water runs fairly clear. (It may take a few rinses before the rice is ready.)
Place rice in covered saucepan; add water to ½ inch above rice; put on high heat.
As soon as water boils rapidly, reduce heat to medium-low and keep simmering for 10 minutes covered with lid.
Remove pot from burner and let rice rest undisturbed for 5 minutes. Fluff rice by flipping and breaking up grains before serving.
To order, contact your Smithfield Culinary sales representative, call 888-326-7526 or contact us for more information.
Email Recipe