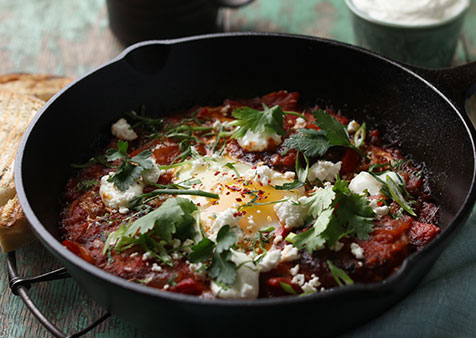 Ingredients
Shakshuka Base:
¼ cup olive oil
12 Smithfield™ Breakfast Patties
1 large red onion, ¼" dice
1 large red pepper, ¼" dice
4 large garlic cloves, minced
Salt, to taste
2 tsp smoked Spanish paprika
1 tsp ground cumin, toasted
2 tsp harissa paste
1 tsp tomato paste
1 28-oz can San Marzano tomatoes,crushed
4 oz piquillo peppers, ¼" dice
Herb & Cheese Garnish:
Shakshuka
4 free-range eggs 2 Tbsp olive oil
8 slices ciabatta bread
3 oz feta cheese, crumbled
4 Tbsp labneh
1 Tbsp chopped parsley
1 Tbsp chopped cilantro
4 sprigs cilantro
Details
Meal Course:
Dinner
Dish Type:
Entrée
Preparation
Add oil to small rondeau; when hot, sear breakfast patties on all sides. Remove patties, and reserve.
Add onions, peppers, garlic and pinch of salt to rondeau; sauté over medium heat until tender.
Add spices, harissa paste and tomato paste, and cook for 3 minutes.
Add tomatoes and piquillo peppers, bring to simmer, and season with salt.
Turn to low heat, add breakfast patties, and cook for 10 minutes.
Remove from heat, and allow to cool.
Divide Shakshuka equally into 4 6-inch cast iron pans.
Warm over medium heat until simmering.
Make a hole in middle of each, crack egg inside, and season with salt.
Place in preheated oven at 450ºF for 3-5 minutes until egg white is cooked. (The egg yolk should remain runny.)
Brush ciabatta with oil, and grill on both sides.
Remove shakshuka from oven, and top with feta cheese, labneh and herbs. Serve with grilled ciabatta bread.
To order, contact your Smithfield Culinary sales representative, call 888-326-7526 or contact us for more information.
Email Recipe