Sliced Roast Beef with Giardiniera & Lemon Aioli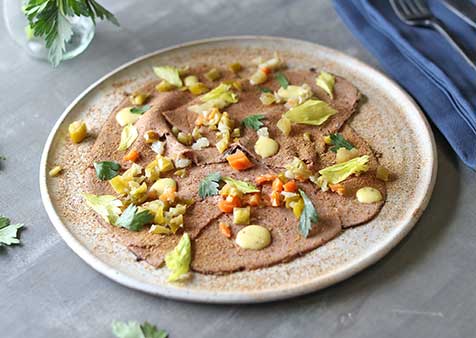 Ingredients
1 cup prepared giardiniera in oil
1/4 lb. dried porcini mushrooms
1 bunch parsley
2 egg yolks
2 cups canola oil
1 Tbsp. whole-grain mustard
1 cup preserved Meyer lemon juice
1 lb. lovage
Details
Product:
Roast Beef
Meal Course:
Dinner, Lunch
Dish Type:
Entrée
Preparation
Lay out roast beef, single layer, on nice plate.
Chop prepared giardiniera.
Grind down dried porcini to make a powder.
Pick and chop parsley.
Prepare aioli with egg yolks, canola oil, mustard and lemon juice.
Pick lovage, chop and add to parsley.
Sprinkle porcini powder over entire plate of beef. Scatter giardiniera over beef and garnish with chopped lovage and parsley.
Pipe prepared lemon aioli in dots all over beef.
To order, contact your Smithfield Culinary sales representative, call 888-326-7526 or contact us for more information.
Email Recipe