Smoked Ham Banh Mi Sandwich, Pickled Vegetables and Lime Aioli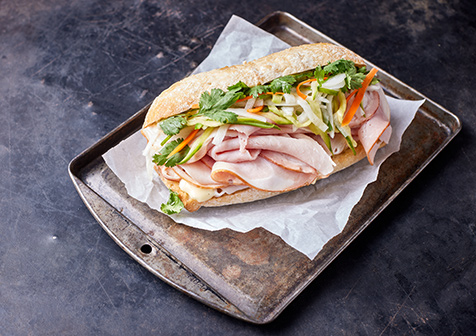 Ingredients
16 oz Smithfield Packaged Smoked Boneless Ham
4 each Banh Mi baguette or traditional French baguette
¼ cup butter
2 cups olive oil
¼ cup lime juice
2 egg yolk
1 Tbsp fish sauce
1 bunch cilantro
1 seedless cucumber
1 large carrot
1 lb. daikon radish
1 jalapeño, seeded and julienned
1 cup sugar
1 cup rice wine vinegar
Details
Product:
Boneless Ham, Smoked Ham
Meal Course:
Dinner, Lunch
Dish Type:
Sandwich
Preparation
Slice 16 oz ham.
Cut and prep the bread.
Soften butter.
Julienne the cucumber, daikon radish, carrots and jalapeño pepper.
Combine the sugar and vinegar, dissolve and pour over the vegetables.
Pickle the veggies for 15-30 minutes.
Make the mayo from scratch or use prepared mayo and add fish sauce and lime juice. Season to taste.
Warm the bread.
Assemble the sandwiches, butter both sides of the bread and add the mayo on both sides.
Place 4 oz of sliced ham on the baguette, squeeze and remove the liquid from the pickles and assemble on the sandwich, pick and wash cilantro and liberally add to the sandwich.
To order, contact your Smithfield Culinary sales representative, call 888-326-7526 or contact us for more information.
Email Recipe