Smoked Pork Belly Breakfast Bibimbap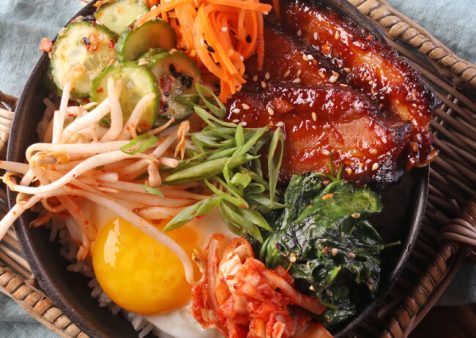 Ingredients
3.5 oz. Smithfield Culinary Smoked Pork Belly– either sliced or medium dice
1 Tbsp. soy sauce
1 Tbsp. sesame oil
1 tsp. brown sugar
1/4 tsp. minced garlic
1/4 tsp. minced ginger
Bibimbap vegetables (recipe to follow)
Bibimbap sauce (recipe to follow)
Bibimbap Vegtables:
1 lb. Spinach
1 Tbsp. garlic
1 tsp. minced ginger
1/2 lb. bean sprouts
1 jar kimchi (napa cabbage)
1 lb. Persian cucumbers- small baby cucumbers (whole foods has them)
4 oz. hon shimeji mushroom AKA brown beech
6 oz. carrots
1/2 tsp. fine sea salt
1 lb. Jasmine Rice
12 each eggs
4 oz. blended oil
Korean seasoned seaweed salad
Bibimbap Sauce:
2 Tbsp. gochujang
1 Tbsp. sesame oil
1 Tbsp. granulated sugar
1 Tbsp. water
1 Tbsp. toasted sesame seeds
1 tsp. rice wine vinegar
1 tsp. minced garlic
Details
Product:
Pork Belly
Meal Course:
Breakfast
Dish Type:
Entrée
Preparation
Add the soy sauce, sesame oil, brown sugar, garlic and ginger to a bowl and cover and marinate pork belly for 30 minutes.
Cook pork belly. Once cooked, add pork belly and bibimbap vegetables to a bowl. Top the bowl with bibimbap sauce.
Bibimbap Vegtables:
Combine and mix all ingredients together on a bowl.
Bibimbap Sauce:
Mix all ingredients together in a small bowl and reserve for plating.
To order, contact your Smithfield Culinary sales representative, call 888-326-7526 or contact us for more information.
Email Recipe