Smoked Sausage and Grit Cakes with New Orleans BBQ Sauce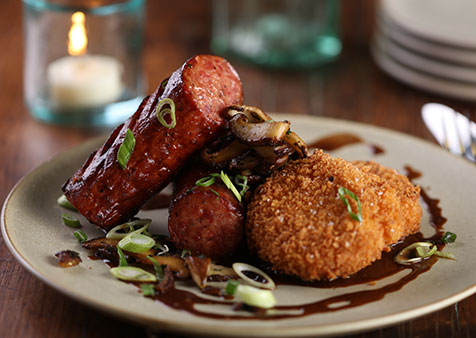 Ingredients
Olive oil, as needed, divided
4 cups Tomatillo Salsa Verde (recipe follows)
4 cups fried tortilla chips
8 eggs
16 oz Smoked Pork Belly
4 Tbsp BBQ Spice Rub (recipe follows)
8 Tbsp cilantro leaves, chopped, for garnish
8 Tbsp sour cream, for garnish
2 limes, sliced, for garnish
2 avocados, sliced, for garnish
1 cup sliced red onion, for garnish
Tomatillo Salsa Verde:
1 lb tomatillos, peeled
½ yellow onion, sliced
4 garlic cloves, whole
1 jalapeño, halved
8 oz cilantro
Salt and pepper, to taste
BBQ Spice Rub:
¼ cup chili powder
2 Tbsp garlic salt
2 Tbsp onion powder
2 Tbsp sweet paprika
2 Tbsp black pepper
2 tsp cayenne pepper
Details
Product:
Pork Belly
Meal Course:
Breakfast
Dish Type:
Entrée
Preparation
In large sauté pan, heat 1 tablespoon olive oil till warm, and add in Tomatillo Salsa Verde. Cook sauce until it comes to a simmer.
Place tortilla chips into pan with simmering sauce, and begin to toss together. In separate nonstick pan, place small amount of oil, warm pan, crack two eggs at a time into pan, and leave on medium-low heat until cooked sunny-side up.
Place pork belly in 350°F fryer to crisp.
Combine BBQ Spice Rub ingredients, and toss with pork belly. Continue to mix sauce and tortilla chips. Chips will absorb the sauce.
To plate dish, start with a bed of tortilla chips. Add ladle of Tomatillo Salsa Verde. Pork belly goes on top of chilaquiles and finishes with 2 sunny-side-up eggs. Garnish with cilantro, sour cream, limes, avocados and red onions.
For Tomatillo Salsa Verde, preheat oven to 350°F. On oiled sheet tray, place tomatillos, onions, garlic and jalapeños, and season with salt. Place in oven for 25-35 minutes until all items have become soft, with a bit of color on top.
Remove from oven, and let cool on counter for 5-10 minutes.
Place mixture into blender, and blend with cilantro until smooth. Pour sauce into large bowl placed on top of ice bath to chill quickly. Season with salt and pepper. Set aside.
To order, contact your Smithfield Culinary sales representative, call 888-326-7526 or contact us for more information.
Email Recipe