Smothered Prime with Smashed Garlic Potatoes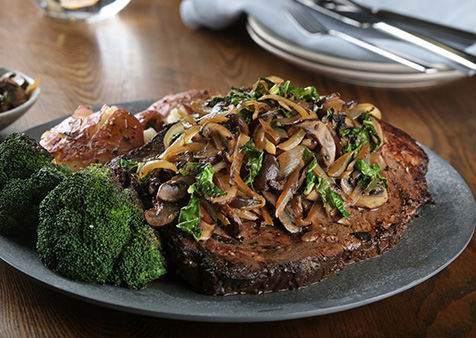 Ingredients
1 Prime Rib, heated
1 lb white onions, sliced thin
2 lbs cremini mushrooms, sliced
8 fl oz red wine
1 rosemary sprig
4 fl oz prepared demi gloss
Salt and pepper, to taste
2 lbs Smashed Garlic New Potatoes (recipe follows)
2 lbs Crunchy Kale
Smashed Garlic New Potatoes:
2 lbs new potatoes
Salt and pepper, to taste
4 oz garlic cloves, roasted
3 fl oz extra virgin olive oil
Details
Product:
Prime Rib
Meal Course:
Dinner
Dish Type:
Entrée
Preparation
In sauté pan, caramelize onions. Add sliced mushrooms, and allow to cook for 5 minutes.
Deglaze with red wine, and add rosemary. Allow to reduce by 50%, and add demi.
Reduce to nape, and fold in kale, set aside until needed.
For Smashed Garlic New Potatoes, place potatoes in pot of salted water, bring to simmer, and cook until tender.
Drain off water, and, with a towel, gently press potatoes until flat but still intact. Top with salt, pepper, roasted garlic and EVO.
Slice prime rib, and top with mushroom kale sauce, and serve with potatoes.
To order, contact your Smithfield Culinary sales representative, call 888-326-7526 or contact us for more information.
Email Recipe